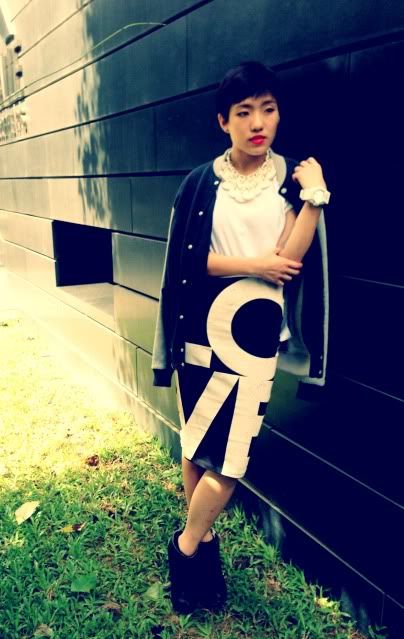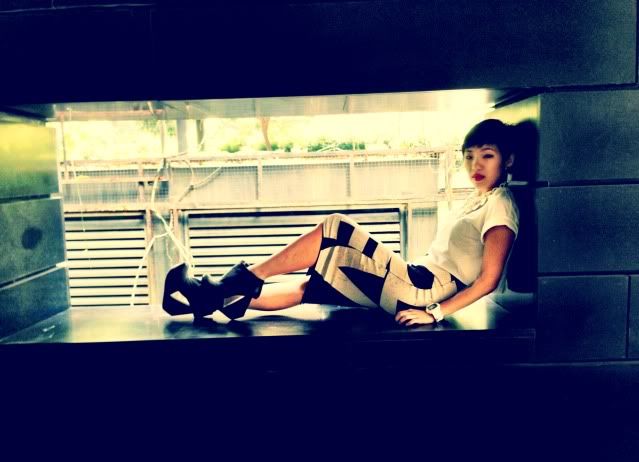 Jacket WeSC Top & Skirt Topshop Necklace Paris Shoes Irregular Choice Watch Casio x AOS

I don't mean to be punny but this skirt was quite literally love at first sight. It's such a fun print to play around with,
plus
its in monochrome. Sold~ Granted, I'm not being particularly adventurous here but I think the white on white happening above makes up for it. Like, is the necklace really there or not?!
I guess that's why I'm so mildly obsessed with clothes and Fashion in general. Its more than just pieces of cloth sewn together and those thousand-dollar price tags are actually justifiable. As an art student, I've seen firsthand how art has the power to communicate and tell stories. Well, I believe that Fashion can too. What you wear is more than just avoiding a nudity-in-public charge, its your way of communicating with the world at large. Its an art form in its own right, which is why my reverence for big name brands goes beyond my materialism. I really, really respect the effort behind the designs, and maybe because I'm from an art background, I truly appreciate the craftsmanship and I understand how hard the design process can be (which is why I avoid buying "inspired" pieces).
This is kind of a weird story but when I was growing up, my parents -believe it or not- were pretty strict. I had a curfew, my phone would get confiscated etc. The freedom to choose what I wanted to wear was my one reprieve. No one could tell me what I was wearing was "wrong", and I still love the feeling of looking into the mirror knowing I've put together a good outfit. Call it shallow- but its still an achievement or sorts! This is going to sound like the worst cliche ever but when it comes to complete freedom of expression- fashion is the one place where that holds true and don't ever let anyone convince you otherwise.
xx