So the other day I had this raging, burning desire to muck around in the kitchen...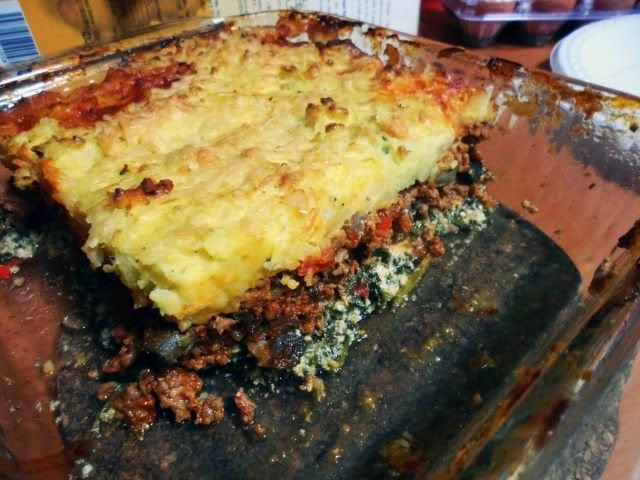 And this is what I ended up with!
I know anything that needs to go into the oven always seems excessively troublesome, but this one was dead easy. It was just quite labour intensive, but there's no better feeling then feeding people you love (which is why for a dinner party a few days later, I doubled the ingredients and made a pie twice as huge)! I'm calling it the
Lovechild Pie
because it's a sort of combination of a meat pie and a shepherd's pie. The story behind this is that I really wanted to make a pie, but i'm not particularly good with pastry and I couldn't be bothered to make a crust. So the boy suggested covering it with potatoes ala shepherd's pie, which turned out to be a pretty good idea!
(I know what I said about hating posts that continue after cuts but I assume not everyone is into cooking)
You will need:
FOR THE MEAT PIE FILLIN
G
250g of ground beef
250g of Italian sausage, without the skin
1 clove of garlic, minced
1 chopped onion
1 chopped red bell pepper
280g of chopped mushrooms
100g sliced black olives
6oz of tomato paste
295ml water
1 teaspoon dried basil
1 1/2 teaspoon dried oregano
FOR THE MEAT PIE BASE
280g chopped frozen spinach
6oz ricotta cheese
180g shredded mozzarella
FOR THE POTATO COVER
6-8 potatoes, peeled and diced
1/4 cup cream
3 1/2 tablespoons butter
2 egg yolks
Parmesan cheese
Everything can be bought from Cold Storage, and i've listed the quantities in the easiest way to buy them.
THE MEAT PIE FILLING
Also, you might want to drag a friend/boyfriend because it's no joke lugging so many things home.
Best way to mince garlic? Crush it with the flat of your blade and then chop it up!
Big ass frying pan. Use the largest frying pan you can because you'll want everything to cook at the same time. A pot if fine too but you'll have to keep stirring!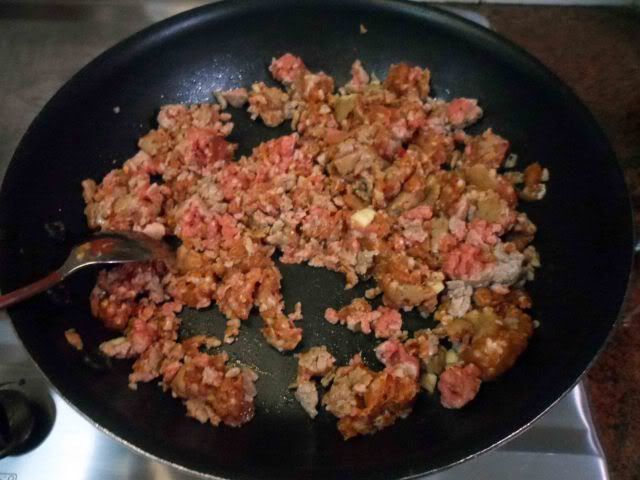 Preheat oven to about 220 degrees c.
Step 1: Throw in the beef, sausages and onions and cook for about 5 minutes on medium heat, stirring occasionally until the meat turns brown. Discard any remaining grease.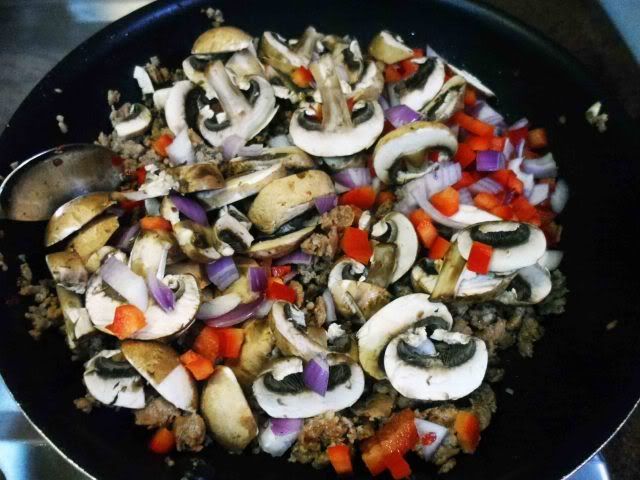 Step 2: Throw in the mushrooms, onions and bell peppers. Stir occasionally and cook until mushrooms have released their liquids and onions are translucent.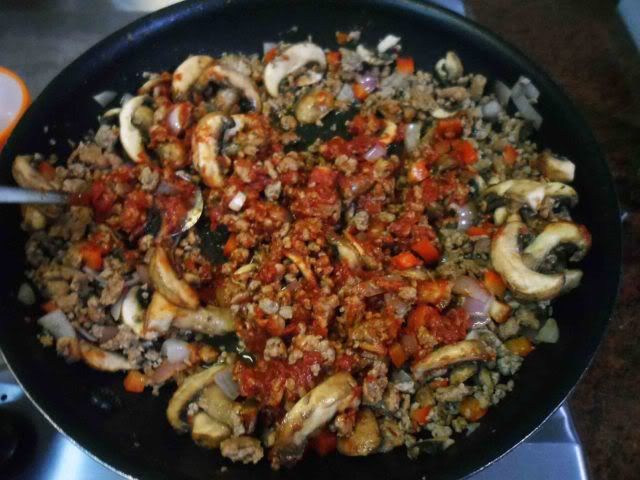 Step 3: Stir in tomato paste, water, and herbs. And by stir in, I literally do mean slowly pour in the water and stir, not dump everything in at one go.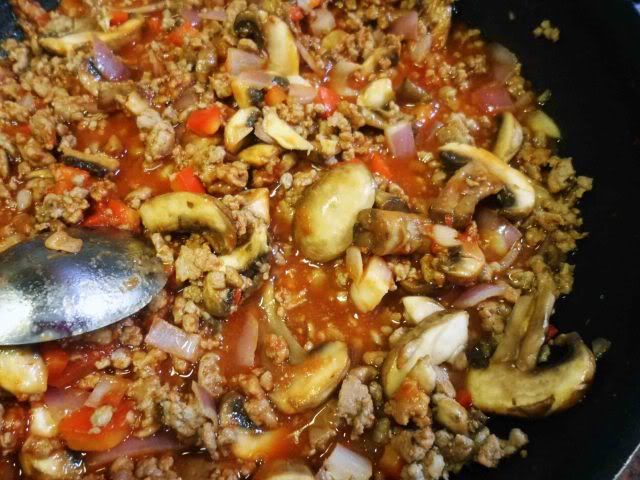 It gets quite watery, so depending on the amount of mushrooms you used, you might want to adjust the amount of water you add in. That's one of the things I love about cooking, there's so much room for flexibility that every recipe can taste different.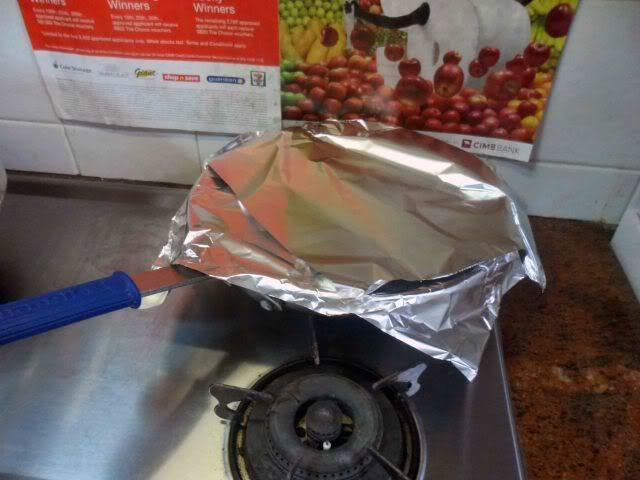 Step 4: Once the sauce comes to a boil, lower the fire to a small flame and simmer for 10 minutes. I couldn't find the cover for this saucepan so I just used aluminium foil. Bless that thing, saved my life so many times.
While that is cooking, you can move on to step 5:
In an oven safe dish, mix up the spinach, ricotta cheese and mozzarella. Make sure the spinach is REALLY WELL DRAINED. Because you don't have a base for this, this spinach-cheese mash
is
the base and it cannot support all the meat and potatoes on top if there's too much water.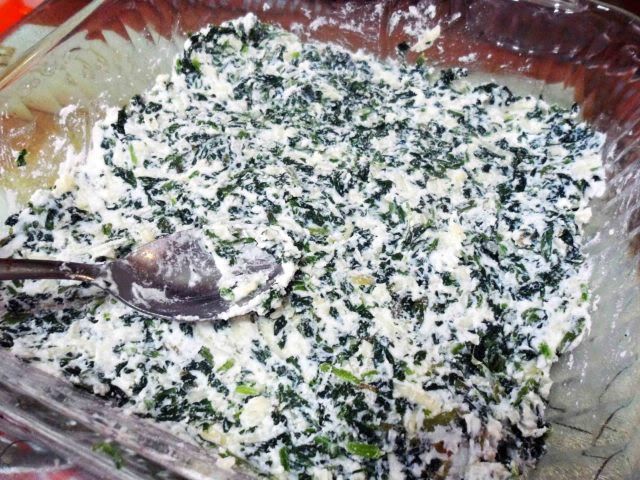 Colours quite nice for some reason. (At the point, you might want to bake this mixture for about 10 minutes, just to make sure the base is more sturdy)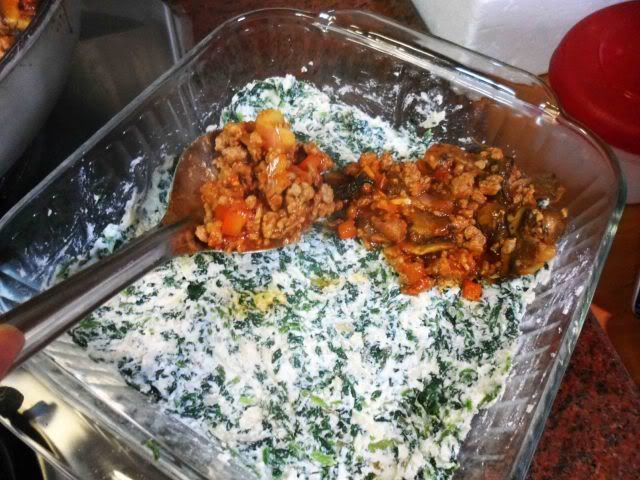 Step 6: Top up with your meat mixture and let it stand.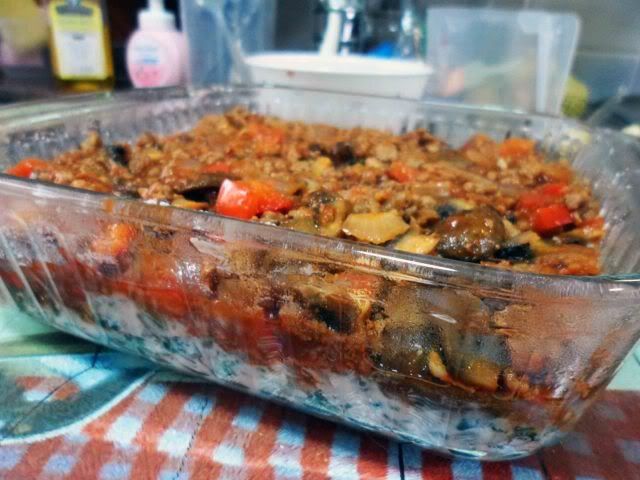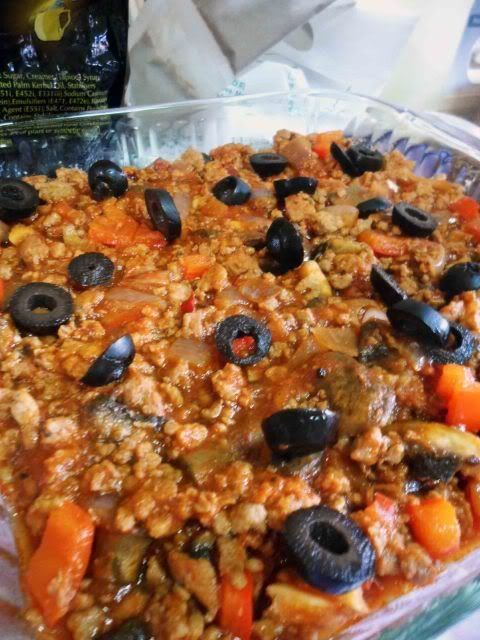 Sprinkle olives over the top for that extra kick in flavour!
THE MASH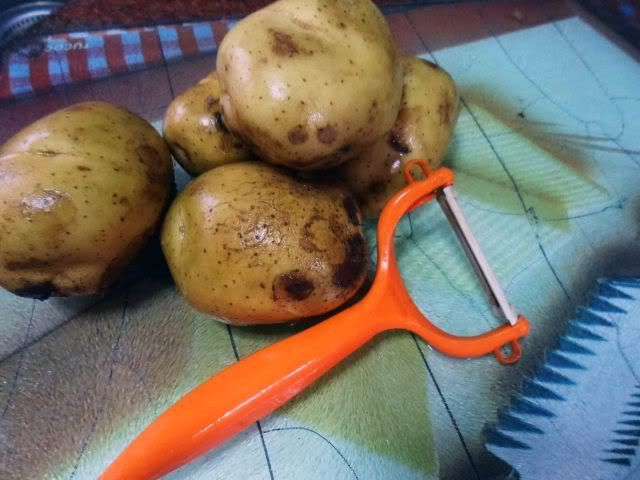 Step 1: Dice up the potatoes so when you have to mash it later on, it's a hell of a lot easier. Cover with water, dump in a bunch of salt and cook until soft.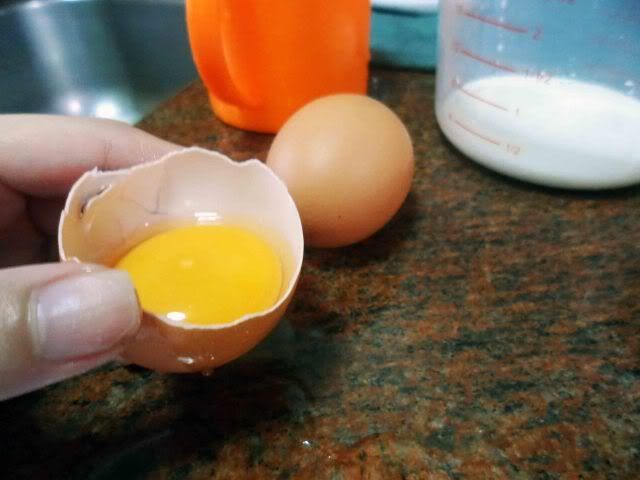 Step 2: Separate egg yolks. Dead easy, just teh-tahrik it between the two halves of your egg shell.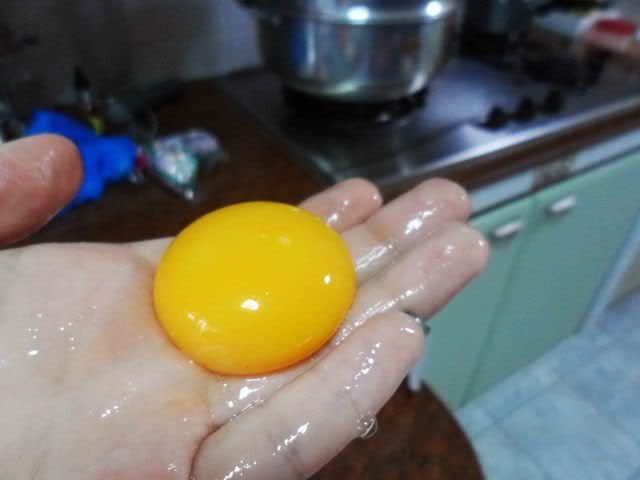 Or if it's a decently fresh egg, you can just use your hands to separate the whites! Fresh eggs have pretty sturdy yolks. When I was at the cooking class in Spain, I could pick up the yolks pinched between two fingers!
Step 3: Mix in the cream, egg yolks and butter and maaaaaaasssshhhhhh! This is bloody tiring, and no joke when you have to mash 24 bloody potatoes. Highly recommended that you pull a boyfriend or someone who likes to lift weights to help.
Left it slightly chunky for some bite!
(For my second attempt, I used the same recipe and made a potato base too. But for that, mash the potatoes up really well so that it can crisp slightly in the oven.)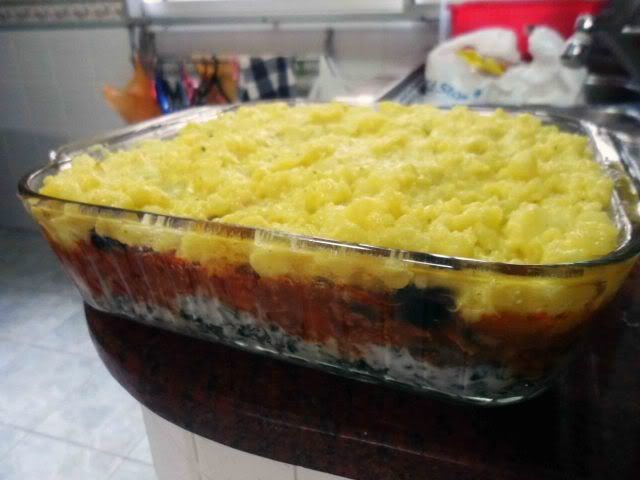 Step 4: Cover with your potato mash.
Step 5: Generously sprinkle Parmesan cheese and it's ready to hit the oven!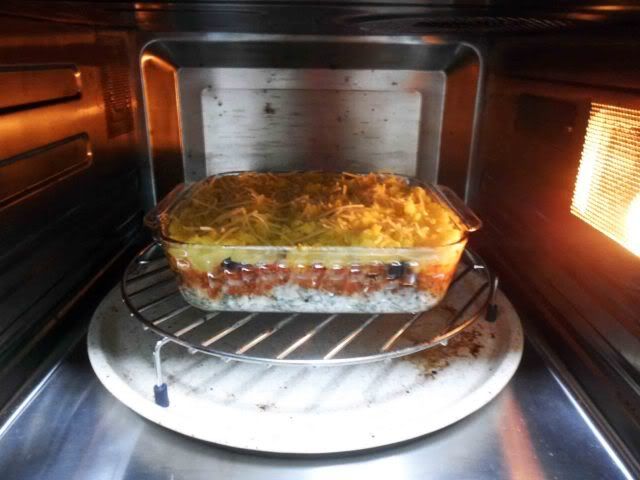 Mine's just a regular microwave with convection oven settings, so I imagine that it doesn't get as hot as a proper oven. Bake for around 20 minutes, and check on it every once in awhile.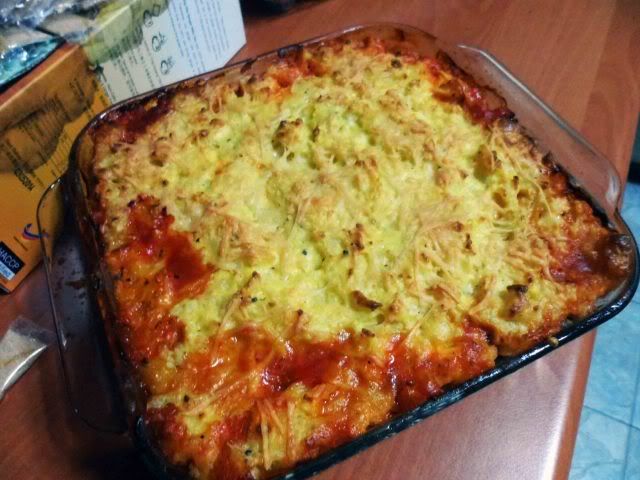 When the cheese has gone all brown and crisp and melted into the potatoes, it's done!
And there you have it, a Lovechild Pie. It's a relatively simple recipe that easily doubles or triples if need be, and everyone loves meat and potatoes. (If you want to do a potato base, bake that, add the spinach-cheese mixture and bake again. This is what I did the second time round.)
xx