Everyone's heard of the famous Jurong hilltop teppenyaki place right? The first time I ate there was when I was really young, and for some reason memories of that place has always remained vivid. Maybe because my dad kept emphasizing that it was expensive and that I should eat everything, or maybe because my young brain managed to process that it was a special place that you don't get to go to often. Whatever it was, eating there again after at least 14 years (fuck now I feel old) was a nice feeling, something along the lines of homey/comfortable. You know that feeling where you go back to an old house or look at an ex and all those memories come rushing back and for a split second you're not talking or thinking, just being overwhelmed? That's how it felt.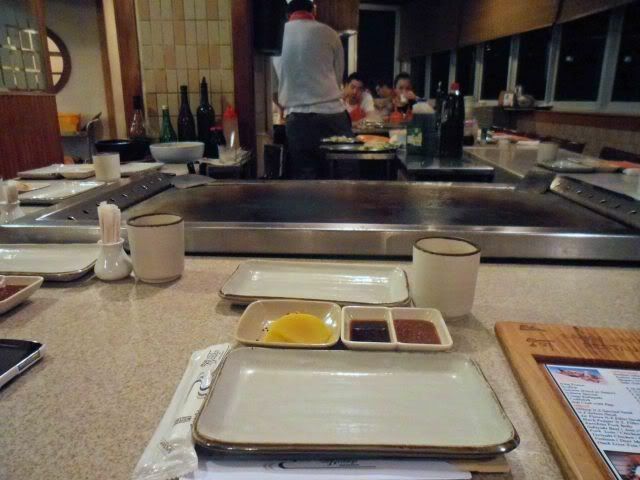 Hilltop Japanese Restaurant
2 Jurong Hill
6266 3522
Make reservations! This place is always busy and unless you want to walk in at 9pm (they close at 10.30pm), which you don't because that's seriously a bad time for dinner and you'll eat like an uncivilized zombie after seeing the food being cooked in front of you (I should know), give them a call a day or two ahead.
Hilltop also has a non-teppenyaki side which i've never tried before, so I have no idea how the food is like.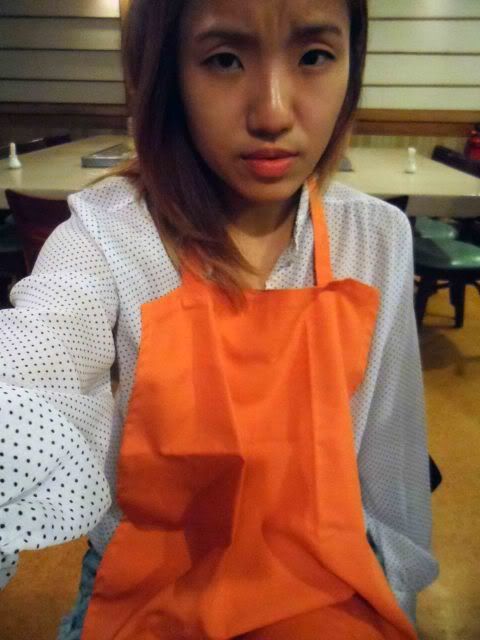 Ok I definitely do not remember these aprons we had to wear! Such an obnoxious orange somemore haha.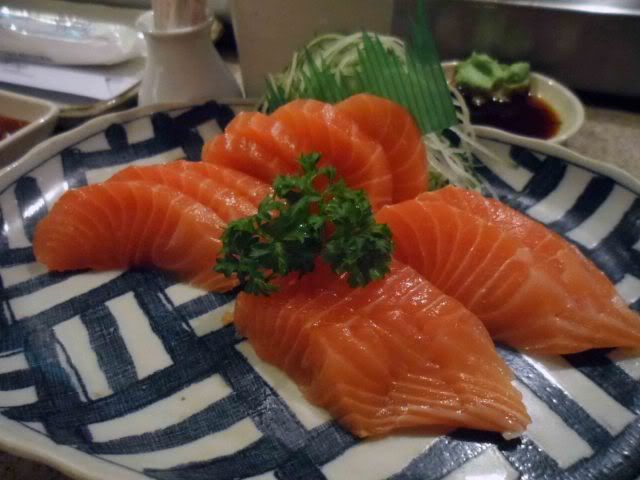 Sashimi! This is one portion and it's like, $25? We were so ravenous that we ordered 3. Not bad, pretty fresh!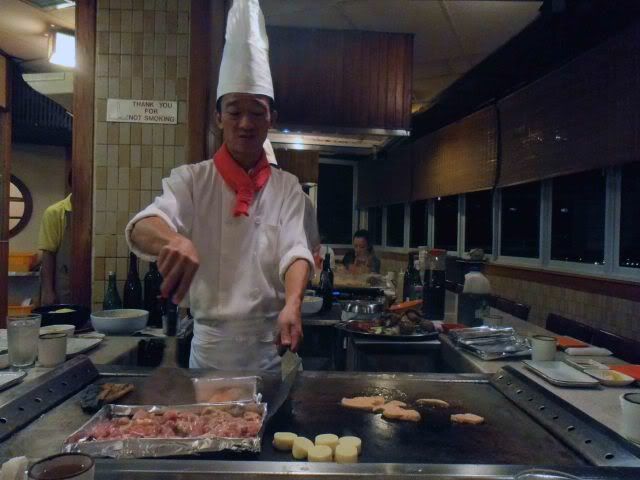 Chef dude started to cook. He seemed quite grumpy and he didn't really do those cool tricks teppenyaki chefs are supposed to do D: I remember seeing more of those tricks when I was young- perhaps I ought to steal a kid before going the next time.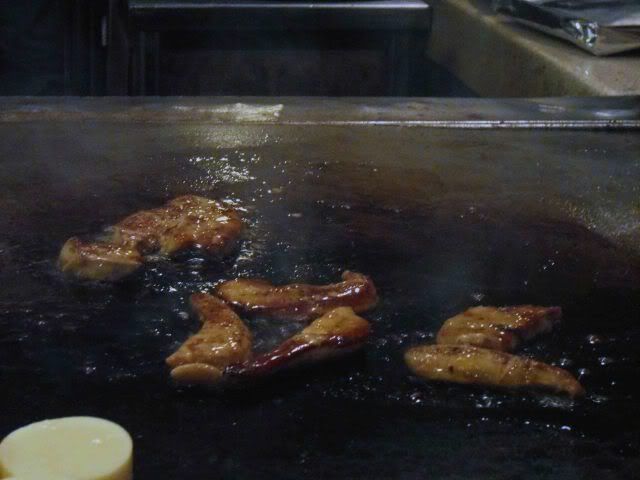 When it comes to foie gras, calories and cholesterol can go screw themselves because seriously, heavenly morsels like that should never be denied entry, kind of like hot girls at clubs, you never say no to them.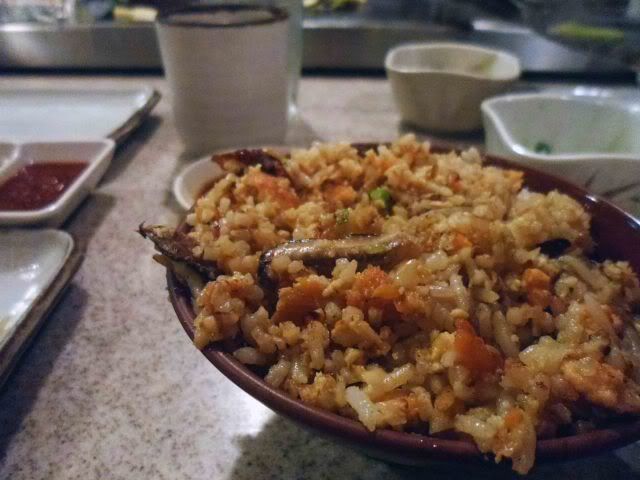 Kind of disappointed that they didn't cook the garlic fried rice in front of us! This was not bad, definitely better than the one at
Aburiya
, but not as good as
Tajimaya's
in Vivocity.
Mushrooms and fresh asparagus. These were alright, the vegetables were cooked well but there was a bit too much oil and garlic going on for me. I like oil and garlic but I prefer my vegetables as close to their natural state as possible, maybe just tossed in olive oil and sea salt.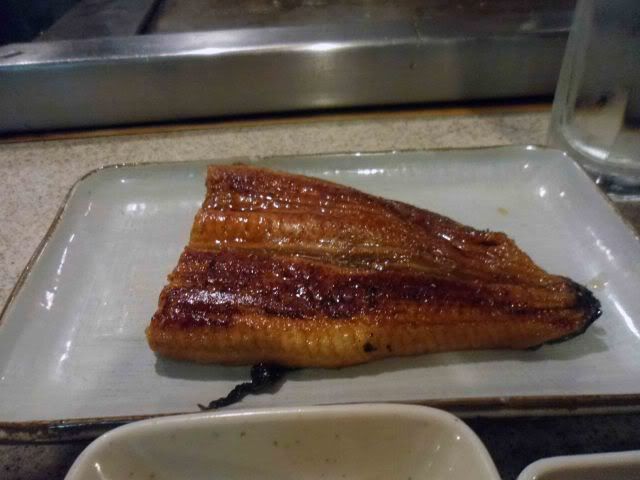 Someone's unagi. I hate the slimy texture of unagi so I didn't try this. Said someone did mention that it was pretty good, so we both are gonna have to take his word for it.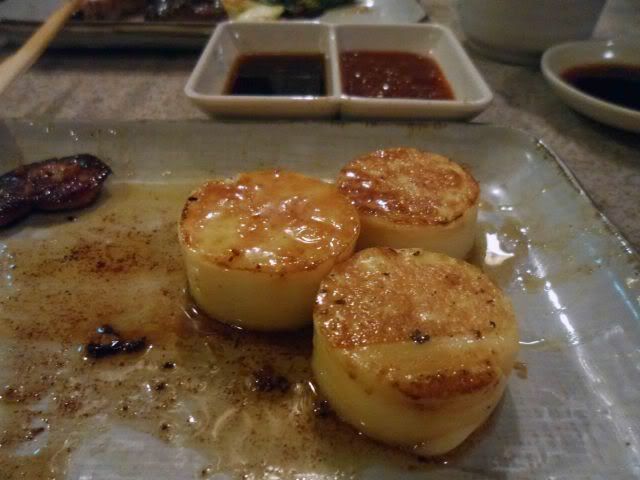 Tofu! Heard people raving about the tofu so it was a must-try. Look at all that oil, christ. The tofu was good! I really liked how the seared texture of the skin juxtaposed with the soft, delicate insides.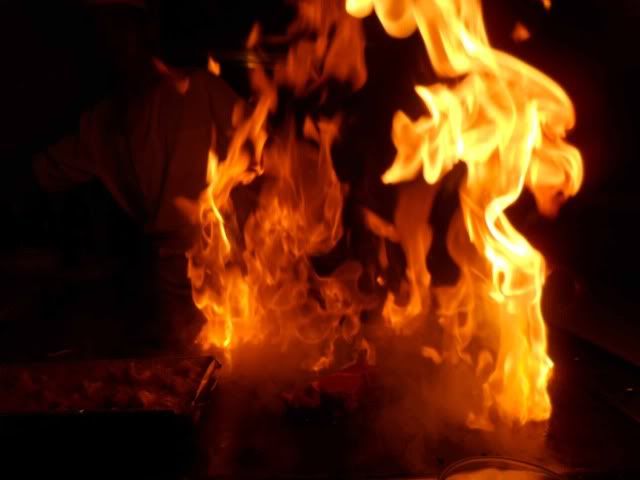 So yeah y'know, was just having a chill conversation and suddenly BOOM, this wall of flames just erupts 
right in front of where I was sitting. 
The flame was to sear the steak I ordered and to be fair, he did give me some sort of mumbled warning but I wasn't expecting this crazy intensity LOL. Idk how I managed to grab my camera, turn it on and snap a picture in time.
Beef! This was good. You can of course, request for the doneness and I always get mine medium rare! Chef dude cooked it to the right doneness and I think the searing kept all the juices inside because everything was really tender and juicy. So hungry looking at this now D: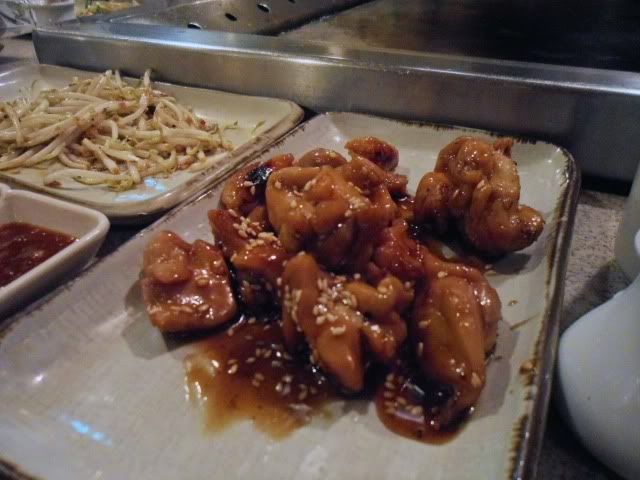 Carrie's teriyaki chicken. I had a bite of this and I really liked the sauce. It was cooked down to this thick gooey consistency in front of us, so I know it isn't some bottled sauce. It was sweet but not overly so, and the sesame seeds was a nice touch. Chicken was alright, I mean it's just chicken, it's almost impossible to fuck up chicken.
Overall i'd say Hilltop isn't too bad. The food is fresh, is cooked fast and service is good (kept refilling our teas). Then again I went at 9m and there were barely any other diners. I can't remember the individual prices but I know we paid $366 for 7 people. We ordered 1 beef, 2 foie gras, 3 teriyaki chicken, 1 unagi, 1 salmon, 3 plates of sashimi and 9 bowls of garlic fried rice.
I like teppenyaki, on occasion. It gets too oily and I don't like seeing treadmills and cross trainers popping into my head every time I take a bite of something. But I suppose for all the lucky bastards who don't gain weight.... D:<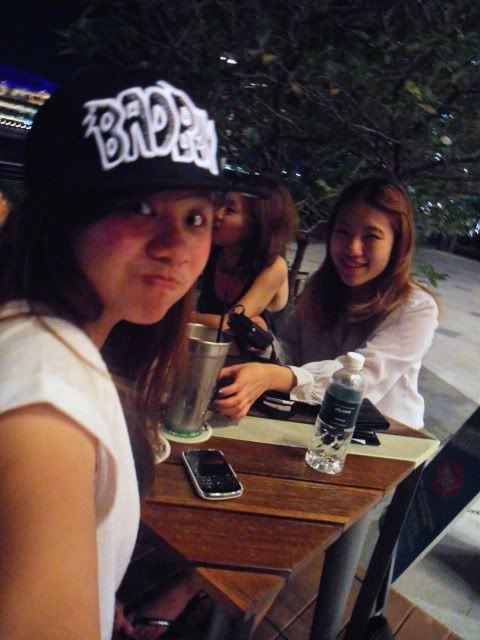 Went to 
Overeasy 
for what I conclude (to date) to be the best milkshakes in Singapore after! That is definitely worth a try, and btw, my go-to flavour is Chocolate.
Overeasy
1 Fullerton (Just next to The Butter Factory)
6423 0701