I took one look at all the crap lying around the hotel room and decided to leave it for later and blog instead. Too depressing to think about packing because it means another domestic flight in a few hours. D: Also, the internet seems to be behaving so i'm going to take advantage of it. S0... Paris day 2!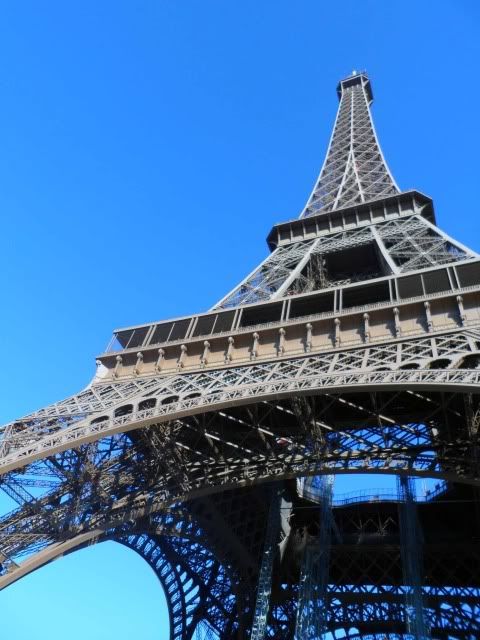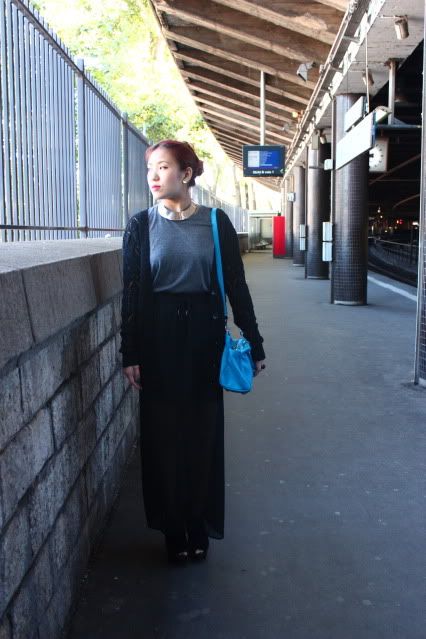 At the train station again. OOTD: Cardigan: Moussy, Top: Topshop, Skirt: Topshop, Shoes: Topshop, Bag: Marc by Marc Jacobs, Necklace: H&M
I look ridiculously layered for Summer, but trust me, the mornings and evenings actually get pretty chilly, especially when the wind blows. Which brings me to my next point. I bought a ton of sweaters in Hong Kong and Singapore because I expected it to be chilly, but for some reason I decided to trust Google's weather forecast and kind of flipped when I saw 28-30 degrees, thinking I wasted money on the sweaters and now, I don't have enough. BAH.
The trains have 2 levels! Wish it was like this in Singapore so there's always seats.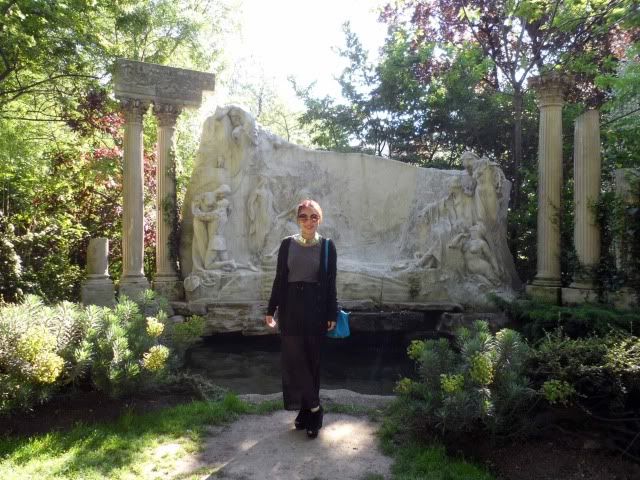 Some random pond along the city streets.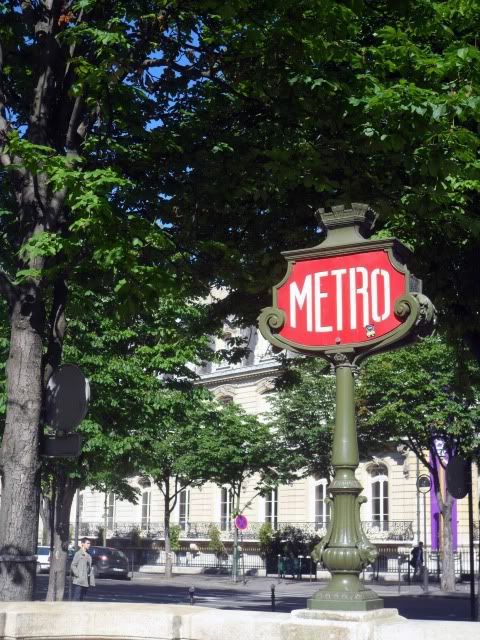 Don't you love their Metro signs? So much character lol.
Sun is super bright ALL THE TIME. Talk about my worst nightmare coming true.
Breakfast by some cafe along the sidewalk like a legit Parisien.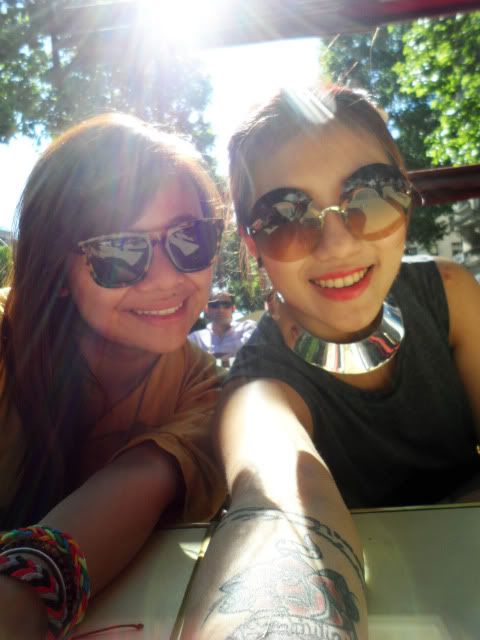 SEE WHAT I MEAN ABOUT SUN. Need some SPF10000 asap D:
The French, despite being known as the gourmands of the world, actually eat a pretty chill breakfast. That's a typical breakfast. The croissants are really good there though, whether you're in a tourist trap or not.
Went to visit the Arc de Triomphe. Typical touristy thing but it was worth a look, very impressive. I wanted to go up but the queue was like, queuing for Hello Kitty on steroids so I gave it a miss.
We're actually standing on a chevron in the middle of the road to camwhore. #dedicated
So in Paris they have these bicycles for rent all over the city. You buy either a 1 day or 7 day pass, choose a bike and go. The best part is, you can return it to any of these stands around the city. There was one just outside our hotel so we decided to bike around for the day. Great way to sightsee!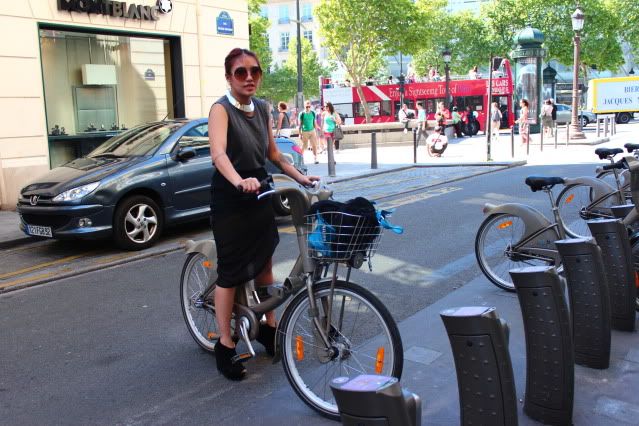 Although you might not want to wear heels AND a long skirt that kind of limits the length of your strides. I think I deserve some sort of award for cycling around in that outfit.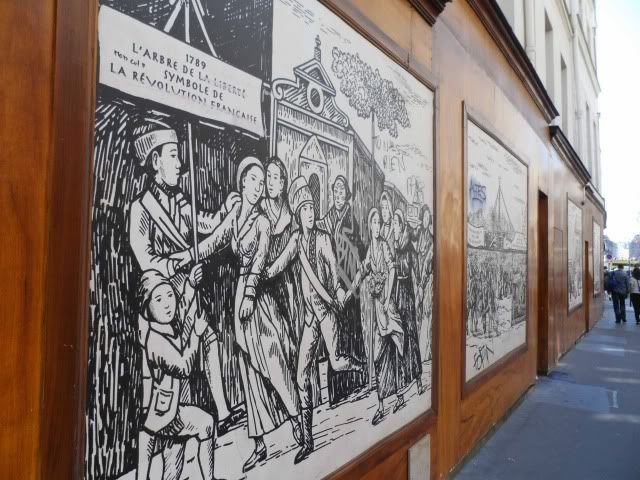 Some street art.
I don't know why but the river Seine always looks very pretty.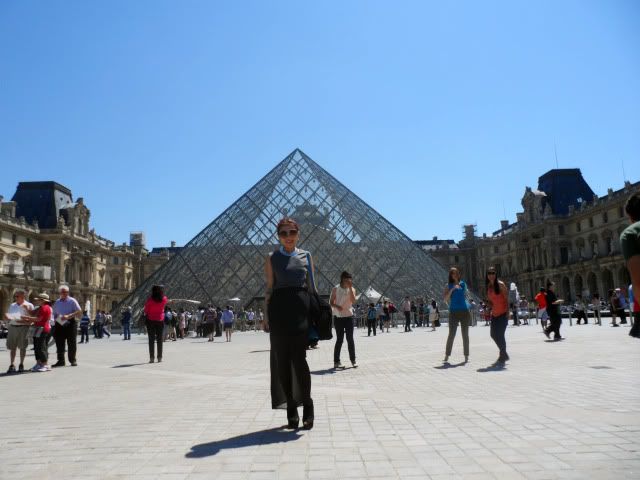 Naturally, all who go to Paris must visit the Louvre.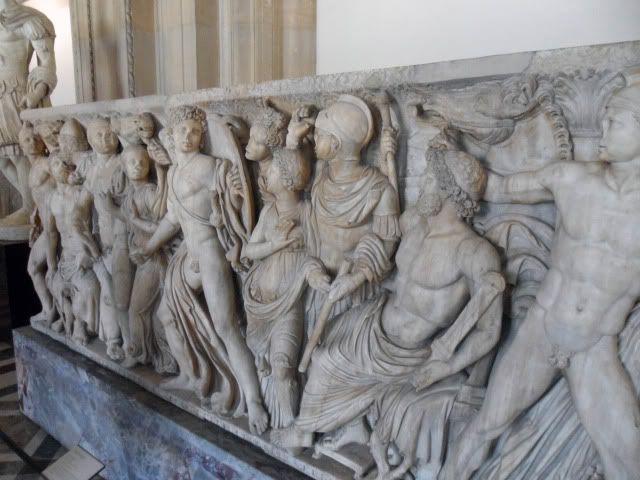 I'm really fascinated by these marble sculptures. How on earth do you achieve this level of detailing ah?
Some intense skylight.The museum itself is a work of art.
GIGANTIC ASS CANVAS MAN. Where in the world do you find a canvas this size?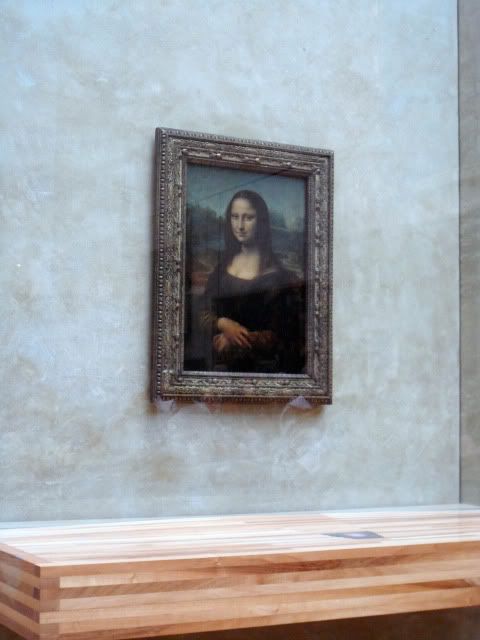 My namesake! Haha jk. The famous Mona Lisa.
Loved the way the light fell on this painting, illuminating just them. Also very nice seeing how the entire painting is actually kind of dark.
DEDICATED ASIAN TOURIST.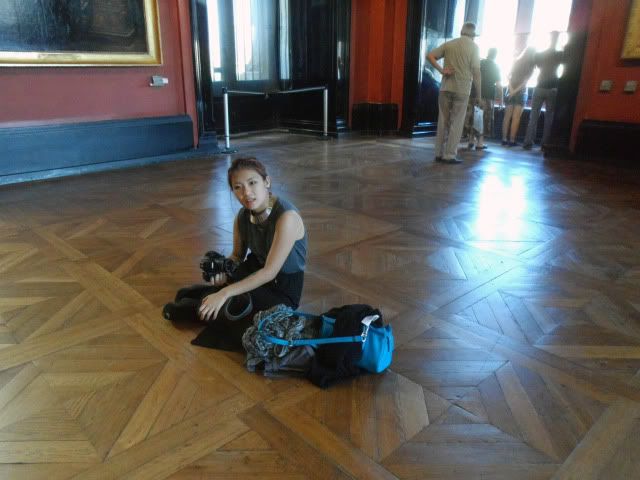 Venus de Milo.
This sculpture is pretty amazing too. It's not very obvious here but in real life the pillow he's lying on looked damn soft and real.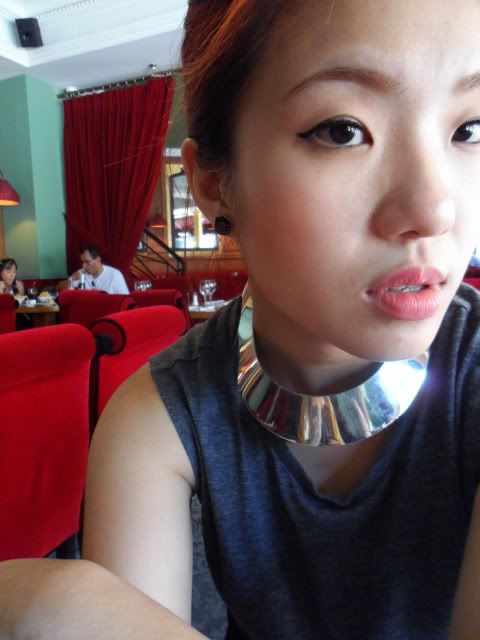 Went to
Cafe Ruc
 near the museum for lunch. It's probably the dining equivalent of Abercrombie & Fitch because ALL the waitstaff looked as if they just stepped off the runway.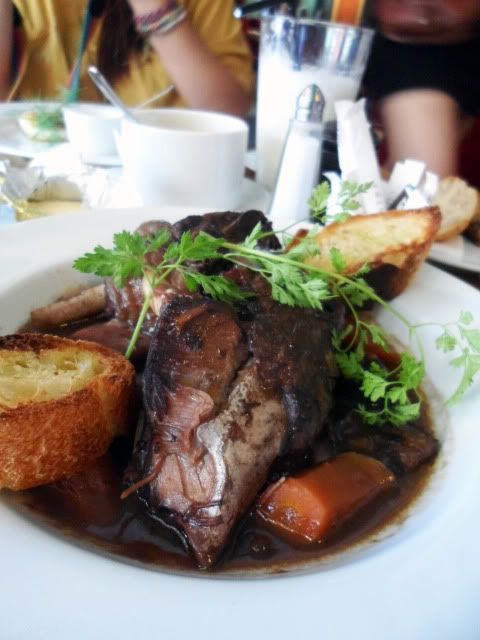 After years of reading about it in culinary books, I had my first legit 
coq au vin
. It's basically just chicken stewed in wine. It was really good. The chicken was very tender and fell off the bone. Traditionally, coq au vin is supposed to be cooked with rooster (coq), but I think most places just use regular chicken.
Carrie had a cod fish with sour dill sauce. Pretty bomb too.
This place was mad expensive. The bill came up to about €90 for just those two dishes and a drink each. /shudder.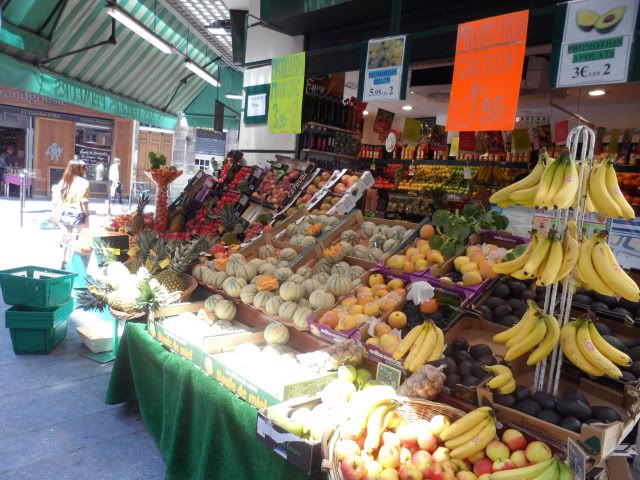 Pretty fruit stall in the middle of the city!
Tomatoes on the vine are so easy to find here! I hunt high and low in Singapore and its very depressing to know i'll never get any of the same freshness even if I pay a lot.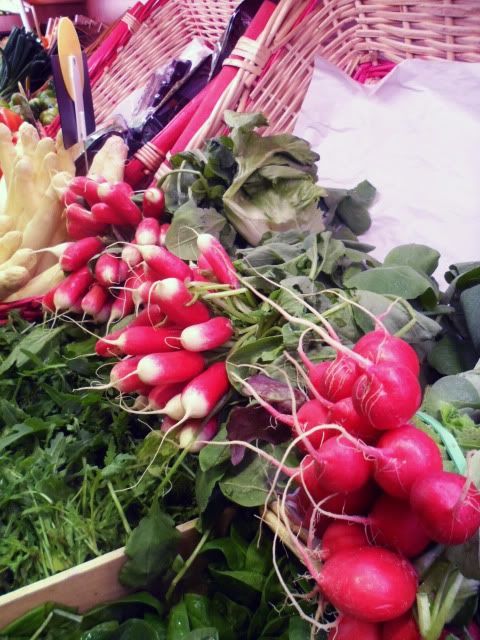 I believe these are radishes? COLOURS BE POPPING BRUH.
Bought some blueberries to munch! Love the way it's packaged. Cute little cardboard basket.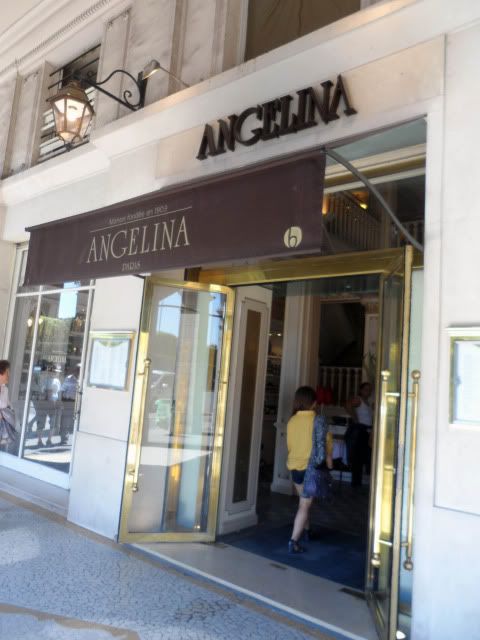 So my friend's friend recommended
Angelina Ma Maison's 
macaroons! You can find this shop at 
226 Rue de Rivoli
.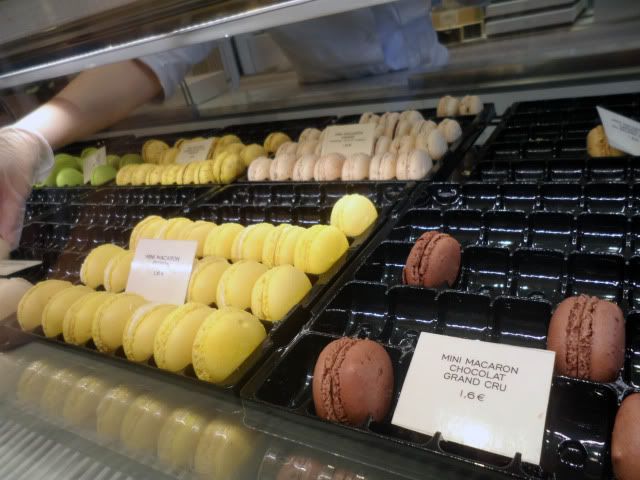 THEY WERE BOMB. I liked them more than the ones from 
Laduree
, the crust was better made and it wasn't too sweet. Also, they allowed photography.
By then my feet were dying after all the cycling and walking so we went back to the hotel to rest for a bit before going out for dinner. The plan was to hit a charcuterie near our hotel, pick up some meats, rent bikes and cycle to the Eiffel Tower and have a picnic on the lawns.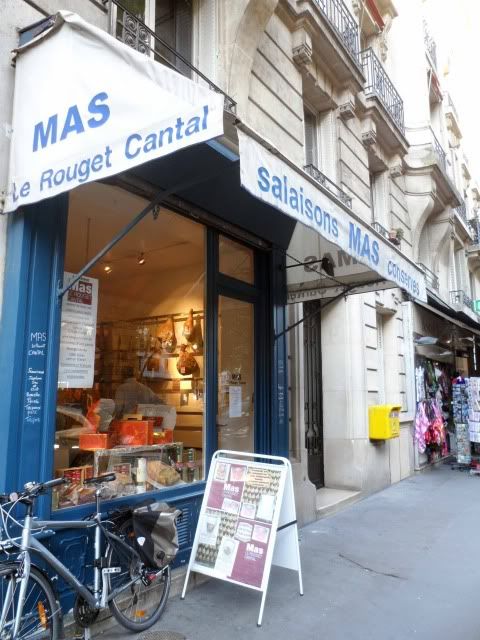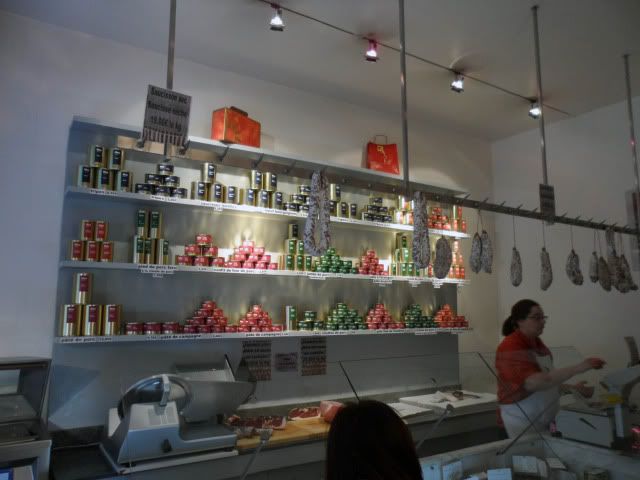 I'm going to miss all this readily available cured meats when i'm back in Singapore.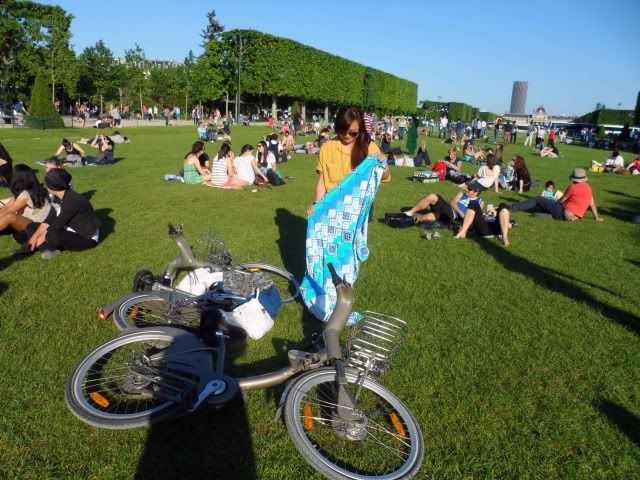 PICNIC TIME. Carrie doing the set up while i'm just being useless and taking photos lol.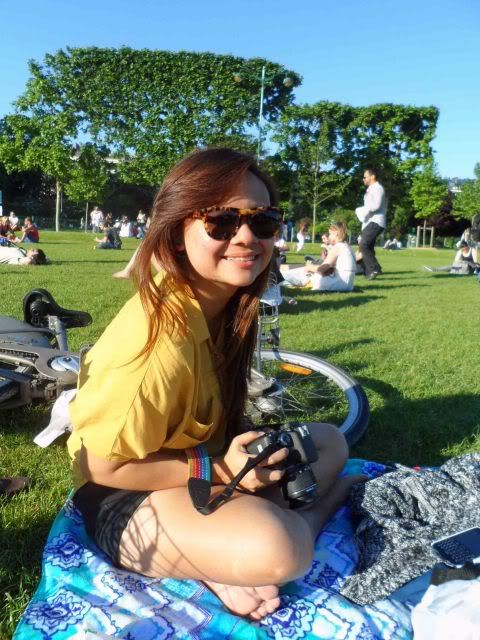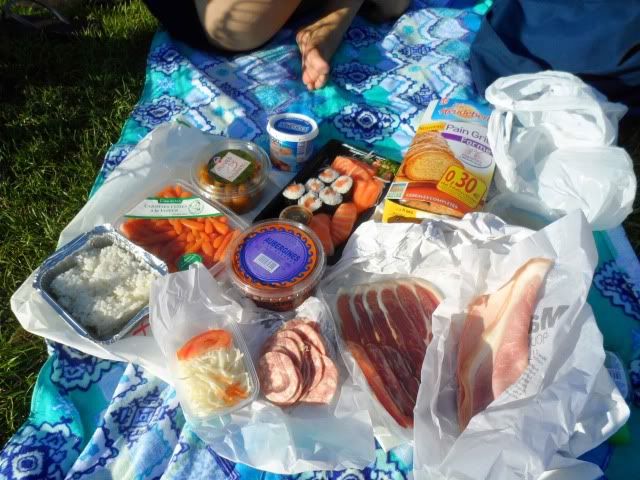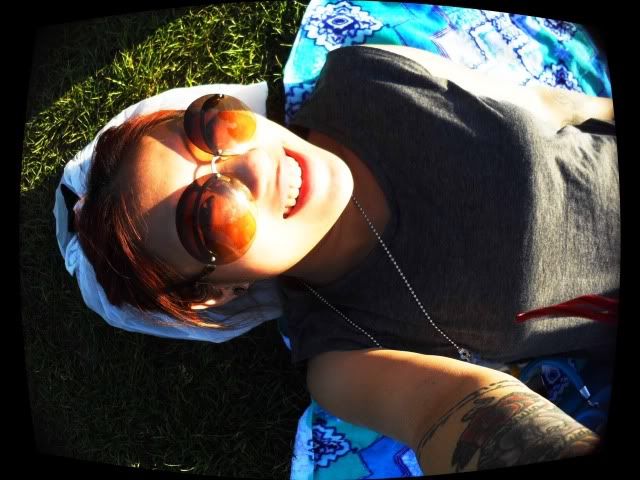 At this point I gave up trying to stay fair and just basked in the sun like everyone else. Starting to regret it now lol.
We finished our food and got bored waiting for the sun to set, so we got on our bikes and cycled around the Eiffel Tower area.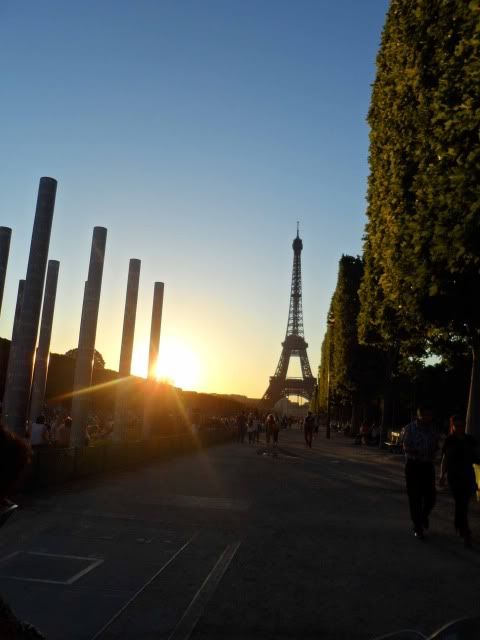 Saw another intense building, but it was gated off so I have no idea what it is.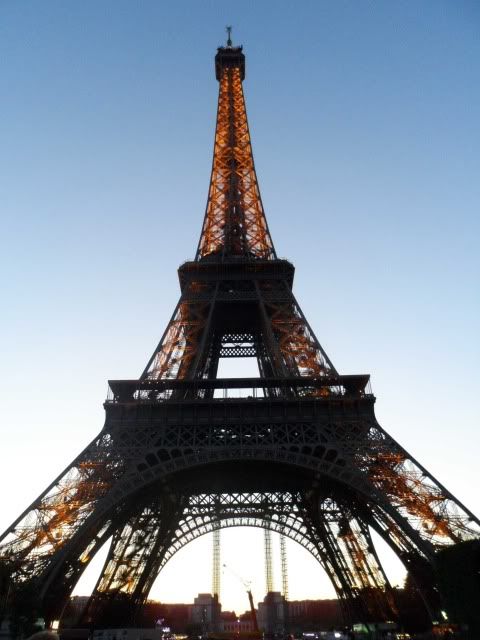 MAD PRETTY LIGHT UP!
During the picnic, we saw a proposal and I got pissed off because the guy didn't wait for the light up to propose. WOULD HAVE BEEN SO MUCH MORE ROMANTIC CAN.
The lawns are a really nice place to chill. There are people walking around selling wine and champagne but Carrie heard they're refilled and not fresh bottles, so you might just want to buy your own instead. Oh did I mention, champagne is fucking cheap there. I distinctly remember that a bottle of Veuve Cliquot + 2 champagne flutes + bottle sleeve + box (all packaged very nicely, mind you) was only going for around €90. They generally don't go more than €60 for your regular sized bottles.
AITE so that's it for Paris. Will be going back because I bought round trip tickets and I can't wait because i'm dying to go poke around Prada and Yves St Laurent. If the difference in prices between there and Singapore is anything like what I just experienced in Zara... hoho. But seriously, i'm not over how cheap Zara is here in Spain. I got a jacket I coveted for months for under SGD$140, and it's selling for SGD$250+ back home.
Need to go pack now. Going to be such a headache because I bought a second luggage, got to think about what goes into where.
xx happy Wednesday! Party it up for me please, I miss abusing alcohol with the boys already.