So many backdated entries piling up it's on the brink of getting annoying so i'll quickly update since i'm at home for once!
I'm not a huge fan of Chinese food, although I will admit to sorely missing it while I was away in Europe. I grew up eating Spaghetti O's, Mac 'n' Cheese and microwave TV dinners, which kinda explains why I was such a chubbers when I was younger (still working hard to get rid of all that weight, mind you) and why my palette always instinctively leans towards Western options when thinking of a place for lunch/dinner. I'm not one of those whitewashed Asian kids by the way, I speak with a distinctly Singaporean accent and my family babbles in Teochew during big family dinners that is waaaay over my head.
This is one of the few Chinese places that I adore! Even better that it's in Sembawang and really near my place hehe. Downside is I don't get to go there with my friends often because i'm the only one who stays in godforsaken Yishun. So when we decided to play badminton at Yishun the other day, I grabbed at the chance and dragged everyone to 
Sum's Kitchen
!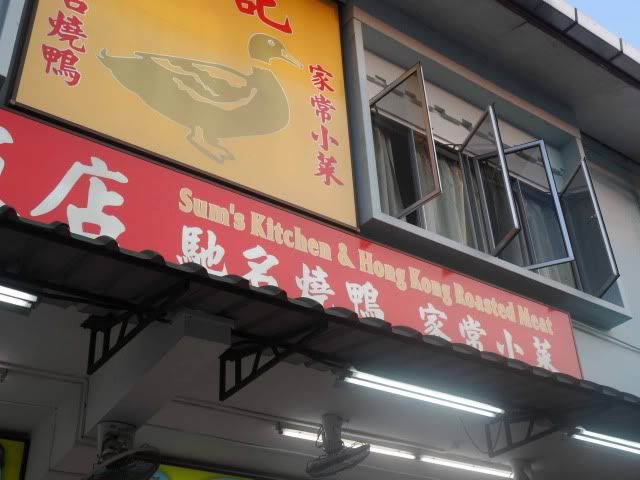 Sum's Kitchen & Hong Kong Roasted Meat
3 Jalan Legundi (Opposite Sembawang Shopping Centre)
Closed on Tuesdays
I'd recommend going earlier to find parking because the little parking area in the Jalan Legundi (famous white beehoon just opposite) area fills up super fast and so does the one at Sembawang Shopping Centre.
It's a quaint homely place, so don't expect anything fancy. The food though, just knocks the lack of ambience out of the park. At the same time I wouldn't really say this place doesn't have ambience, just a quaint one. Feels more authentic I guess? AND it's air conditioned, which is something i'm so damn thankful for because I still cannot get used to the humidity here.
Little metal jars of this
AMAZING
 spring onion and ginger mash on every table. We finished 3 of them LOL. We were so starved after badminton that we just attacked this on its own, and later on with just plain white rice. I have never seen this anywhere else in Singapore.
Some fried brocoli! I know it's not very healthy because of the sauce and all but I insist on at least one vegetable dish every time I eat out. Well cooked though, it had just the right amount of bite and was served piping hot.
Oh my tian words cannot describe how much I love this. This is the traditional Cantonese 
Three Egg Soup 
(god know's what it's called in Mandarin). There's spinach, normal eggs, salted eggs and century eggs. The broth is very light (cause well spinach and regular eggs don't have much taste of their own to impart) with just the right amount of salt from the salted eggs. BOMB.
This was definitely the star of the day. It was so good we ordred two plates! I don't know anywhere else that does Sweet and Sour Pork so well! The breading isn't too thick and very crisp, it's served hot, the sauce isn't too sweet and the meat. My god, the meat. You know how most places the pork is really chewy because they don't use good cuts? This one is incredible. The meat was soft but not overly fatty. This is my go-to place for good sweet and sour pork. Not even Paradise Dynasty can compare.
Black pepper stir fried deer. The meat was very tender but I suppose it's because they used tenderizer or something. Stir fried black and pepper stuff always have that same texture so if you told me I was eating beef, i'd have bought it.
Now this place is really famous for it's duck! There were just 3 hanging at the start of dinner service (we got there at 6pm) and when we ordered it, we were told we could only have 1/4 because the rest had been reserved. So that's another tip, call and reserve yourself some duck if you don't want to be disappointed! I'm not a duck person but the rest tells me that it was good!
I've kind of been spamming on the Asian food ever since I got back. I'm going to do another review of 
Aburiya Japanese BBQ
once i've posted this and smoked a cigarette.
xx