Said cigarette has been smoked, so now, my all time favourite Japanese BBQ place, 
Aburiya
! The last time I went there was when I did a staycation at Studio M and it was right around the corner. When I found myself at the Robertson Quay area (with intentions to go to
Merry Men
), I had to bring my friends here after raving about it the last time!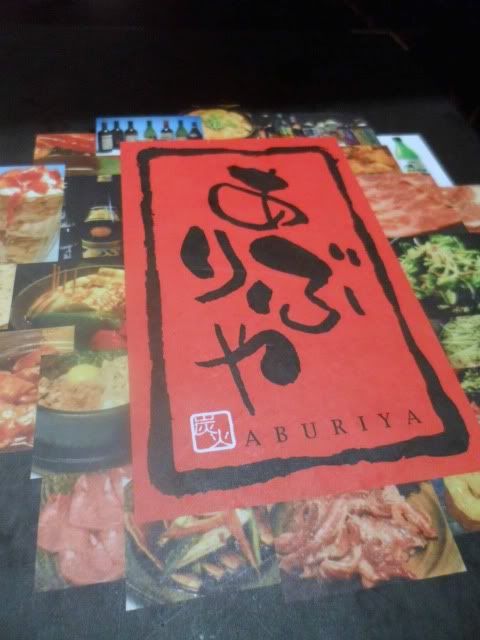 Aburiya
60 Robertson Quay
#01-03 The Quayside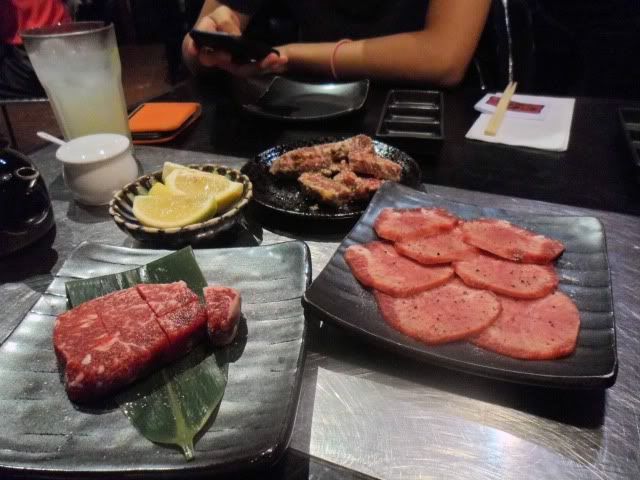 Aburiya is quite pricey, and for the quality of meat and location, I wouldn't have expected any less. You can order ala carte or sets, and I recommend the sets because you get to try more cuts and it is slightly cheaper (unless you already know what you want).
We ordered Set C and it came with rice, soup, stew, pickled vegetables and a salad on top of the meat! I remember Set C being an all Wagyu beef set, and aside from the tongue and sirloin, I can't remember the other cuts. You can choose different kinds of seasoning for the meats and they offer wasabe, shio and hare I think. I chose shio for all because it's so basic you can't really go wrong with it. For the more adventurous I think wasabe would be awesome if you know what kinds of cuts would go best with it.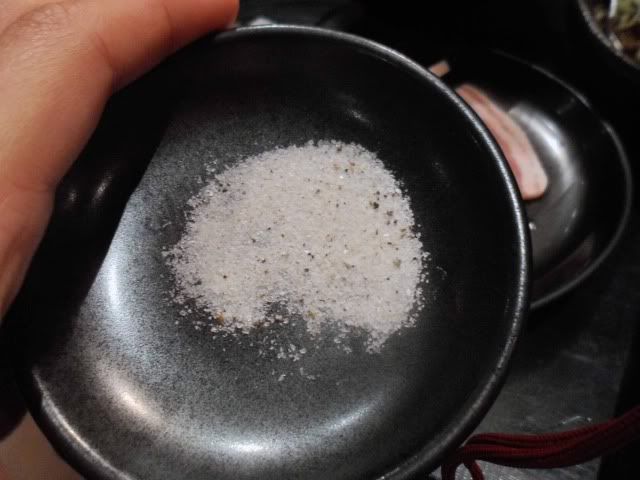 I recommend the pork and ribeye for the meats that specially come with truffle salt! You can cook the meats with the salt or dip it after, and it tastes incredible. The salt uplifts the flavour of the meat and I really love how the earthiness of truffle adds a whole different level of flavour. Compliments fattier meats very well!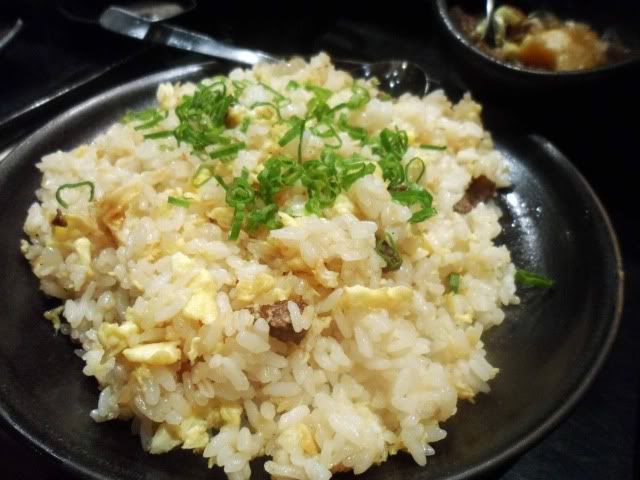 We also ordered ala carte garlic fried rice. I love garlic fried rice and I can never resist it when it's on the menu, and I am someone who avoids carbs like the plague. This one was disappointing though, and I was expecting more considering the standard of the rest of the food. When it arrived I was like, "dude this is really pale" and I suppose it's appearance should have been a hint because it tasted pretty bland. The garlic was so subtle, it was practically nonexistent. I like eating it on it's own, but I suppose if you eat it with a bite of meat, maybe it'll taste better?
Taken before the food arrived. Our smiles hide our crankiness from the heat and hunger!
I like Aburiya, but when I went there this time round, the service was terrible. Sets come with plain white rice and I wanted to have it change to the garlic fried rice and this has never been a problem with other Japanese BBQ places- at the most I just pay a little bit more. I'm fine if their (somewhat strange) policy doesn't allow that, but the attitude of the waitstaff was so fucking surly it was if I personally offended them.
One guy in particular (look out for this slightly bigger guy with two random locks of hair hanging down the side of his head). Japanese BBQ places always provides a sauce dish with 3 'partitions', because there are always 3 different sauces. I mean, otherwise why not just give me a regular sauce dish right? Ours were empty so I assumed they forgot to give us the sauces but when I enquired, the guy SARCASTICALLY gestured to the little jar of soy sauce, like I haven't already noticed it there. Like excuse me, i'm sorry you're working there while i'm eating there but customer service fail much? He also would just plonk down our food on the table and rush off without telling us what the cuts are (or when he did, it was mumbled and I couldn't hear anything).This is basic, BASIC customer service- being PLEASANT to the customers and he couldn't even manage that. I don't care if you've had a bad day, i'm not paying $300 for a dinner served with shitty attitude. Be more professional and wear that damn FNB mask that even I managed to wear on my crap days when I was still bartending. I enjoyed the food but it would have been so much better if the service was better.
I met up with the boy after and we went to Brewerkz cause he hadn't eaten then. I got bored watching him eat and snaffing his fries so I decided on dessert.
I WAS SO HAPPY TO SEE BREAD PUDDING ON THE MENU CAN!!!
I 
never
see bread pudding on the menus of regular restaurants and the only time I get to eat them is when i'm at international buffets. No points for guessing what I ordered!
That's his Fish and Chips in the background but whatever, good as it was (nice sauce) the star here is obviously the bread pudding so all eyes back on it thanks.
Two things, one, I really was impressed with the bread pudding itself because even at quality hotel buffets, it's either too wet and wobbly or dry as the dessert. This one has backbone. It's dense enough to stand and yet just moist enough so even after you spoon sauce over it, it doesn't crumble. Two, the vanilla sauce was so good- it was just right and not too rich. I like the little addition of the bourbon caramel sauce (dark patch at the side) because it gave the entire dish an extra kick (and made the alcoholic in me very happy). Also, they used good quality vanilla ice cream! Very very happy to know Brewerkz has this on their menu. Need to drag Carrie and Sy there ASAP.
Feels weird being home on a Saturday night but I think i'll try to sleep early for once. Going to drag myself back to the gym tomorrow before Training Shed! I blogged about it already, but i'm definitely going to do it again. Quite psyched for this, even if I don't know the guest DJs so I can't go as ape shit as Benny.
xx