Or otherwise also known as the day I decided weather forecasts are full of it. It's 12degrees right now. 
12 degrees
. If my luggage wasn't already so full i'd have taken this opportunity to buy at least one thick fluffy sweater to wear.
So i'm waiting for Carrie to wake up so we can go down and have breakfast. Cold countries are terrible, i'm hungry all the time!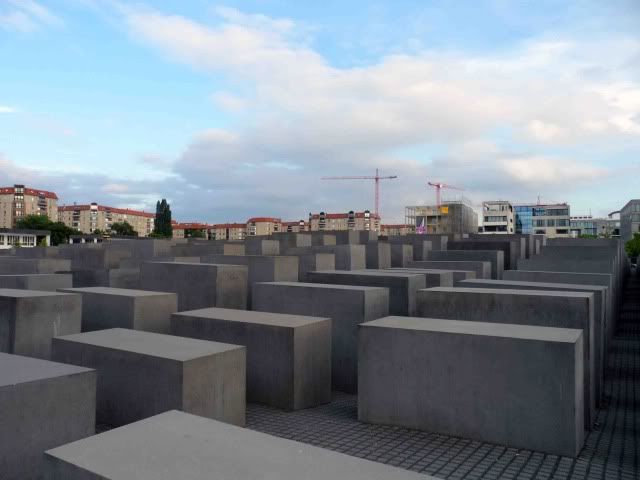 This is so what I pictured in Berlin, some cold gray minimalist concrete action. I'm telling you, this city is awesome. (This is actually a Holocaust memorial. People, us included, were happily leaping around on the blocks and taking photos. How bloody ironic)
We booked ourselves into a Vietnamese hotel LOL. We actually booked another hotel but after the Barcelona fiasco, we cancelled that booking and went for this. I know I sound spoilt but I'm on vacation, I don't want to be staying in some hole in the wall if i'm not backpacking.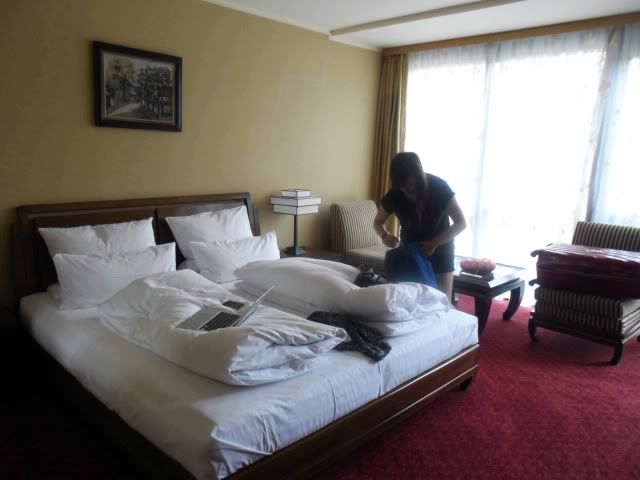 This bed is incredible. I'm blogging from said bed right now haha. Mad sturdy, huge and the comforters are sooooo thick and fluffy! Which is great, since it's practically winter here.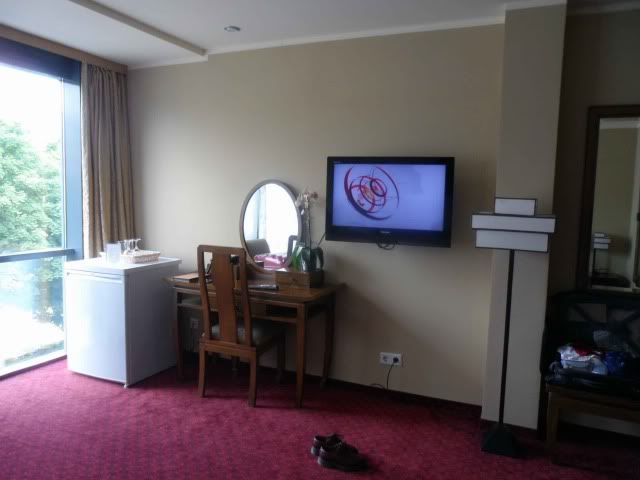 The room is really quite big! It says "Suite" on the door and we're only paying SGD$400 for 3 nights! It's the 
Halong Hotel
, located at 54 Leipziger Street. It's just a ten minute walk from the shopping area and in this cold, you don't notice the walk anyway.
I'm so, so grateful that most Germans seem to speak pretty fluent English! I mean just look at that sign, wtf is going on?!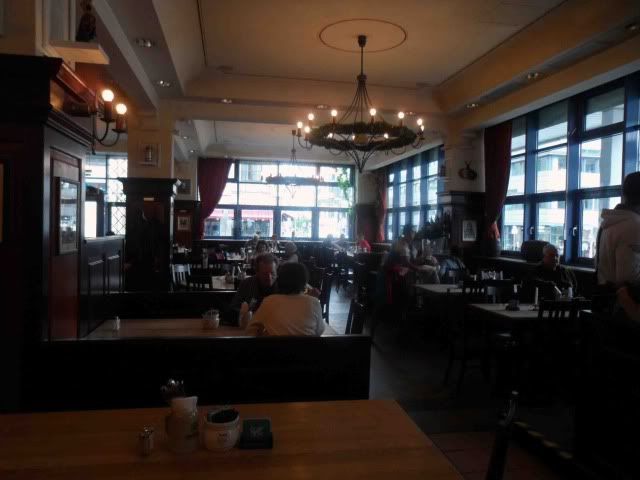 Went to the nearest restaurant for lunch because we wanted to escape the cold. Turned out to be a lucky choice because the food was really good.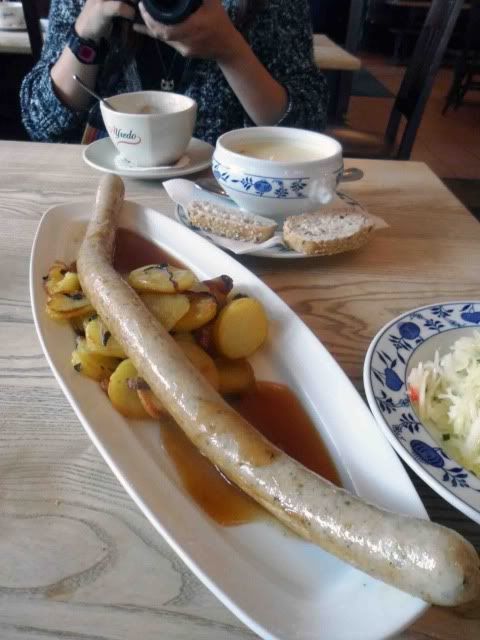 19 inch bratwurst with fried potatoes and onions.
White cabbage salad, that i'm surprised Carrie actually likes. Speaking of, I haven't seen sauerkraut anywhere.
Bavarian potato soup. Perfect for cold days!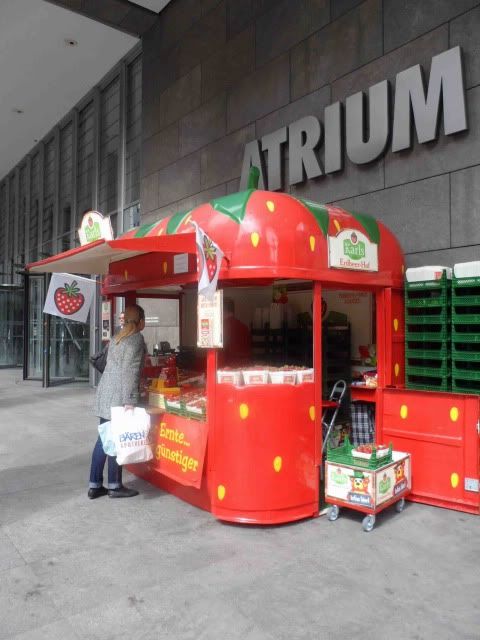 Strawberry stand. So cute and out of place in gray Berlin haha.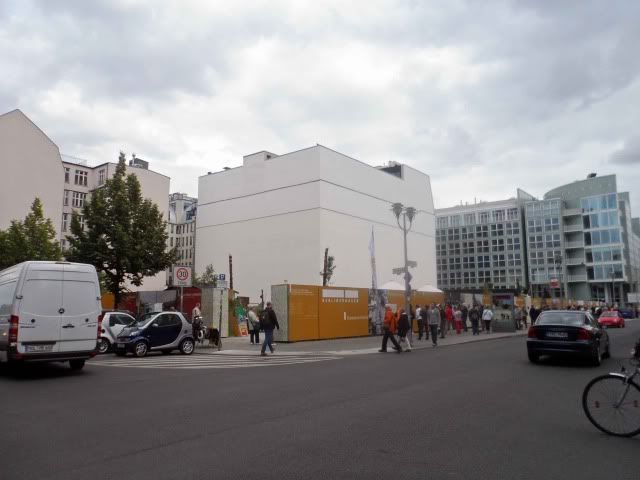 Stumbled upon Checkpoint Charlie.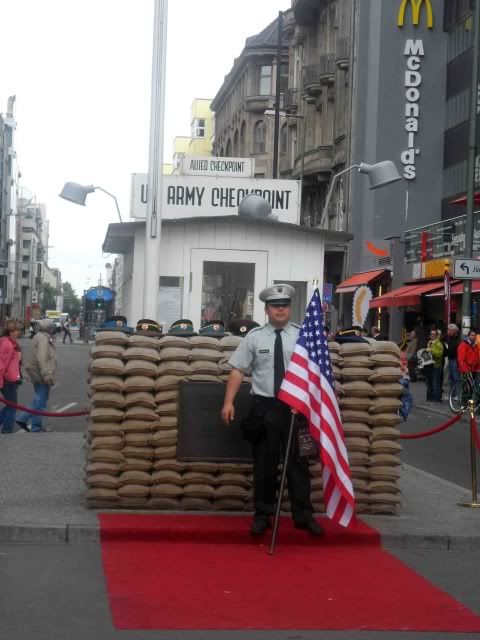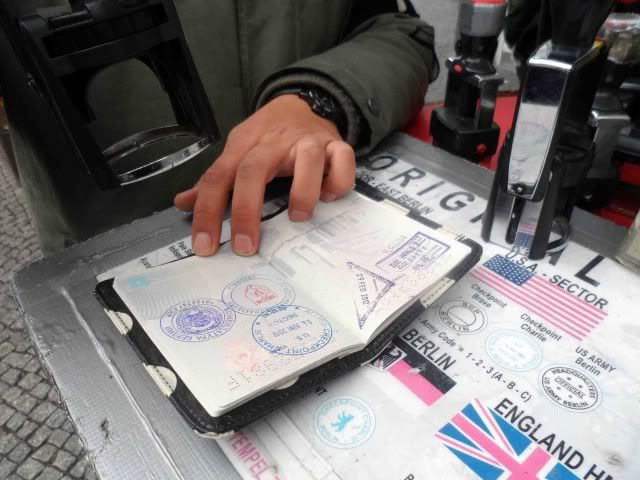 Getting some Checkpoint Charlie passport chops haha. Total tourist trap but whatever, I haven't gotten a single chop from ANY of the countries i've been to. This shall be my only proof that i've been to Europe.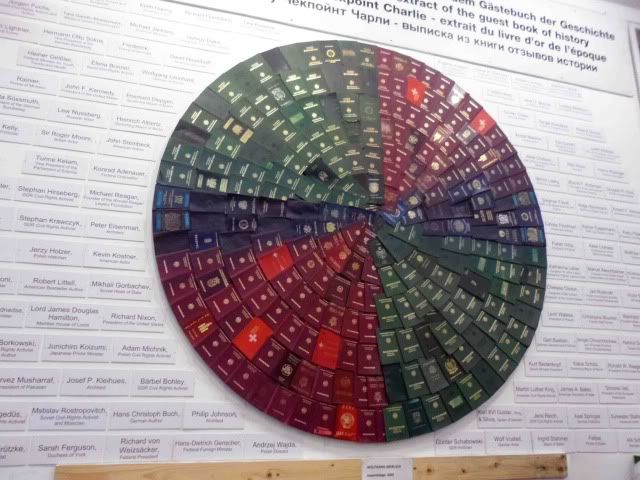 Passport wheel at the Checkpoint Charlie museum.
The amount of methods people came up with to escape East Berlin is amazing.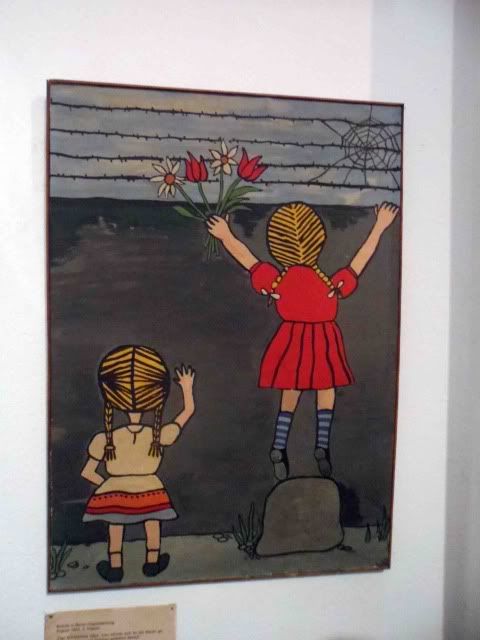 Such a sad child's drawing =/
Some machine that people used to escape in.
Petrol tank escape. Can't imagine having to stay in that position for hours.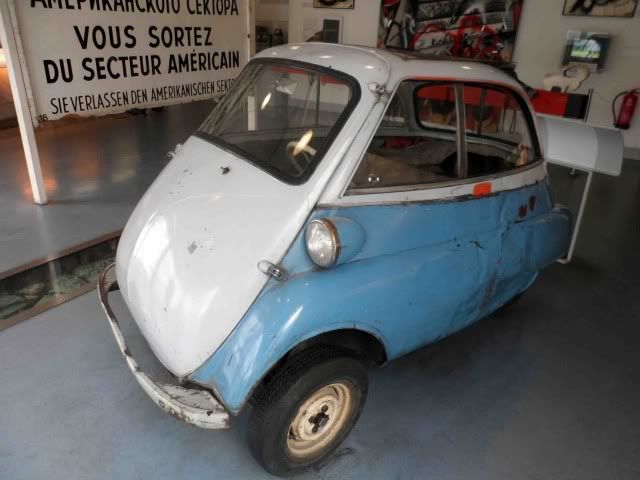 Mad cute car! So tiny. And yes, people escaped in this too. I know I wasn't supposed to touch the exhibits but I couldn't help myself. It felt kind of spooky though, touching something that existed during such a depressing point of history. All the cruelty and deaths during that time.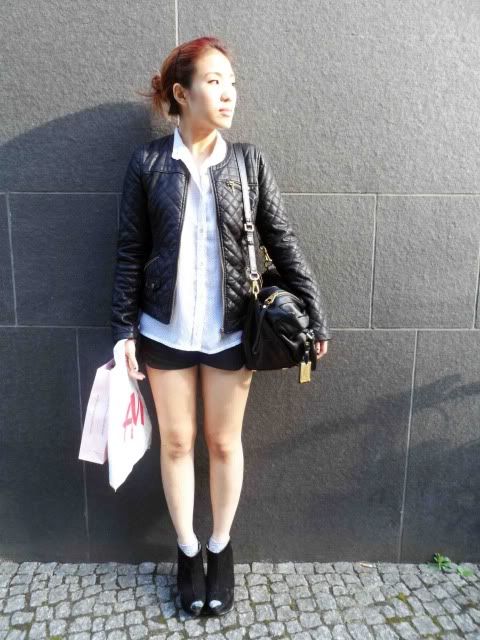 Okokok on to something less heavy.
OOTD: Jacket: Zara, Top: Vintage, Shorts: Zara, Shoes: Topshop, Bag: Marc by Marc Jacobs.
I know the socks don't really go but my feet were freezing and I was too desperate to care already haha.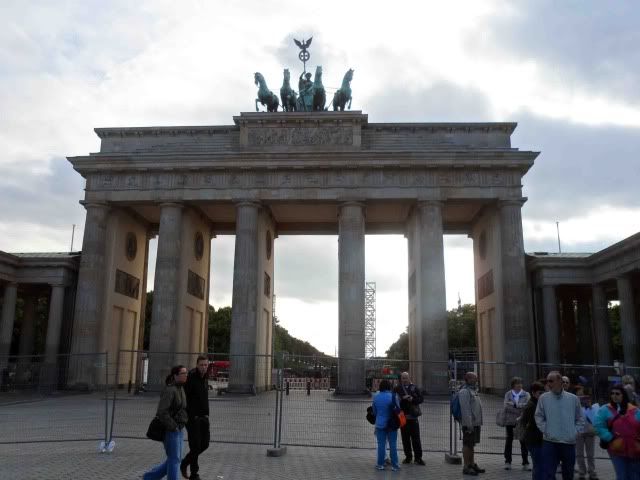 The famous Brandenburg gate!
Some photography op in front of it. I really wanna know wtf Darth Vadar has to do with anything.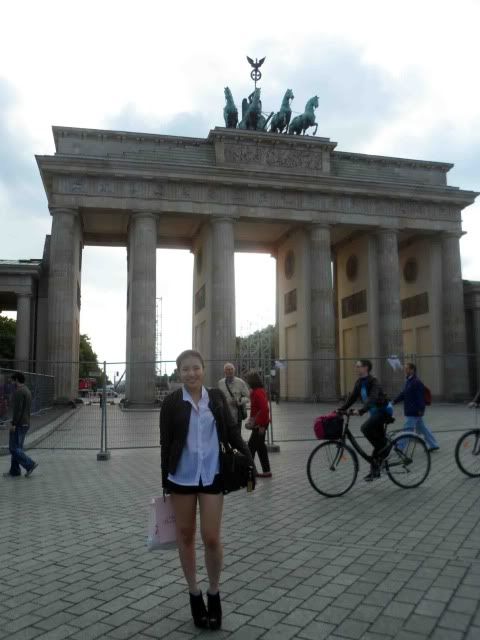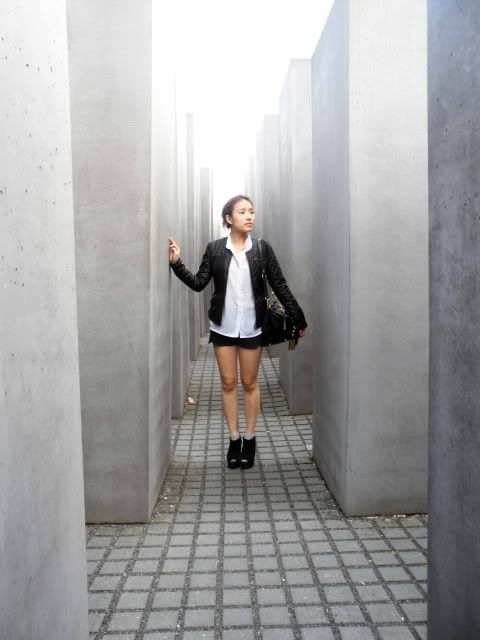 At the Holocause memorial. This is what it looks like in between the blocks. Kind of scary actually.
The Sony Centre. Lights up like Times Square at night! Super intense and so much more alive than the rest of the city.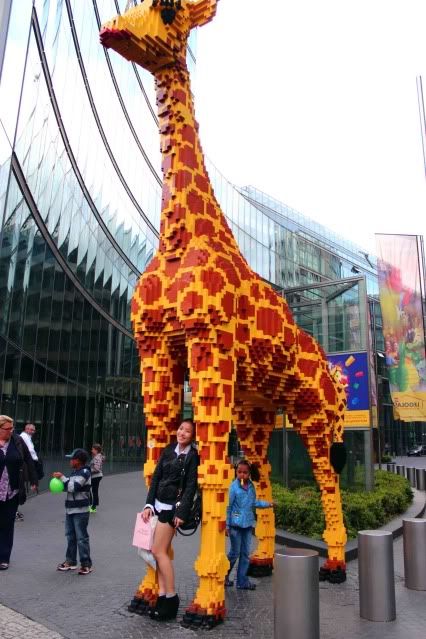 Me with a huge ass lego giraffe! There's a Legoland somewhere but it was closed by the time we got there. Loving the giraffe spam.
One more day today and i'm back to Paris tomorrow. Paris is two things for me, firstly a reminder that i'm leaving Europe soon, which is rather depressing but secondly, that it's time to go all out, no holds barred at LV, YSL etc. Bittersweet, bittersweet.
Anyhow, happy hump day guys! It's ladies night so please, please get drunk for me. I've been sober for 2 weeks today and it feels so goddamn unnatural. xx