It's around 7am here. We got up at 5, thinking that our hot air balloon trip was today but turns out, we got the dates mixed up and it's actually tomorrow. Lol. On the bright side, we're actually up on time for breakfast, for once!
Got some time to kill before the breakfast buffet opens so I'll blog about day 2 in Madrid.
You'd think this building is a royal palace or something like that but no, it's actually just their post office. Singpost, take note.
Breakfast of croissants and churros at a cafe along Calle de Arenal. Most inattentive waitstaff ever. Didn't help I couldn't do my usual obnoxious 'excuse me?!' because I have no idea how to pronounce that correctly in Spanish D: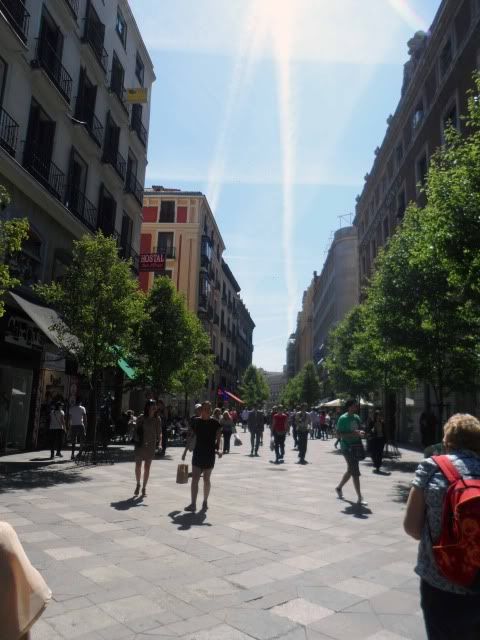 Calle de Arenal! It leads to 
Puerta de Sol
, which is quite haps with all the shopping.
We were comparing the architecture between France and Spain and decided that Spain is more gothic.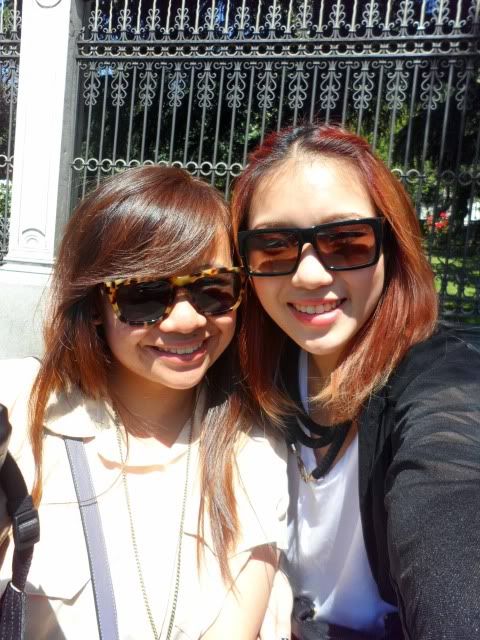 The sun is this bright here ALL THE DAMN TIME. Not the best place to visit if you're trying to avoid a tan. I'm definitely a shade darker already DDD:
In front of the post office!
OOTD: Cardigan: Emoda, Top: Lucyd Acyd. Shorts: Cotton On, Shoes: Doc Martens, Bag: Marc by Marc Jacobs, Necklace: Topshop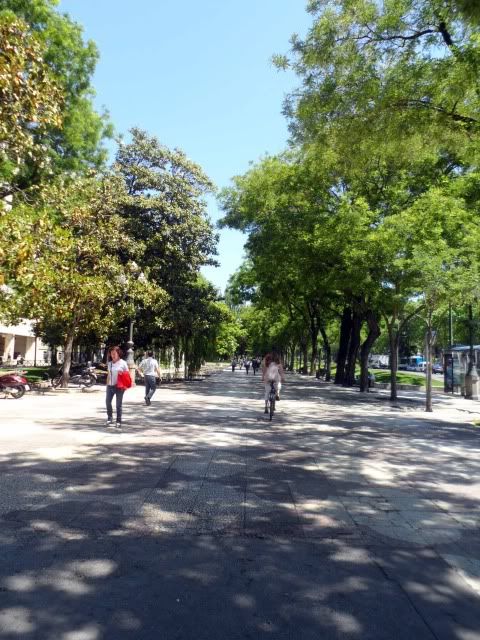 There are nice parks/walkways like this through Madrid! Explains how we managed to walk 2 hours to the Real Madrid stadium the next day.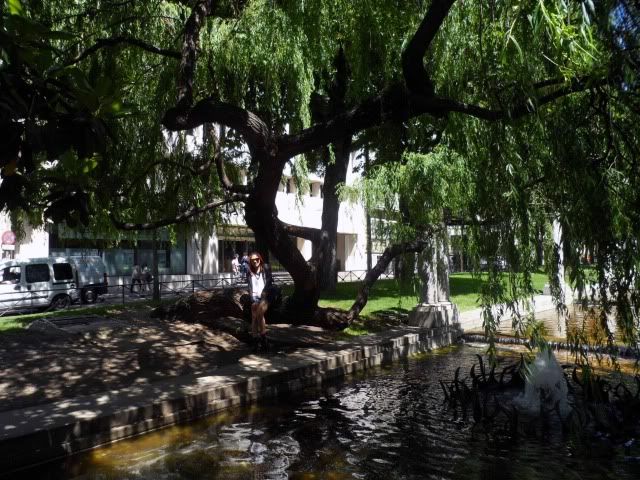 Went to pick up tickets for the bullfight.
I always liked the art direction of bullfight posters. Much, much more than the fights themselves.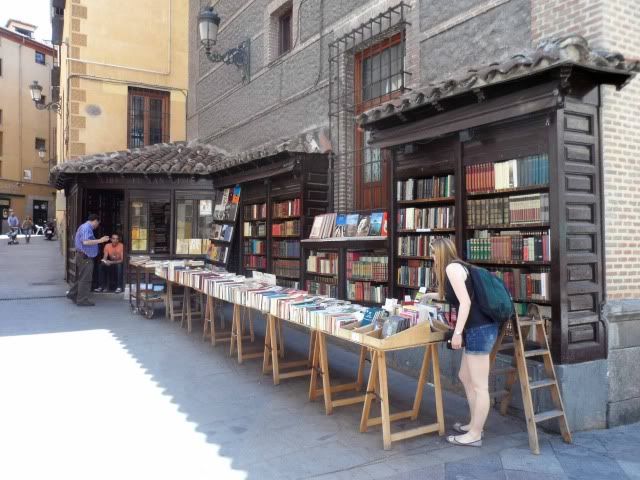 Pop up store anyone?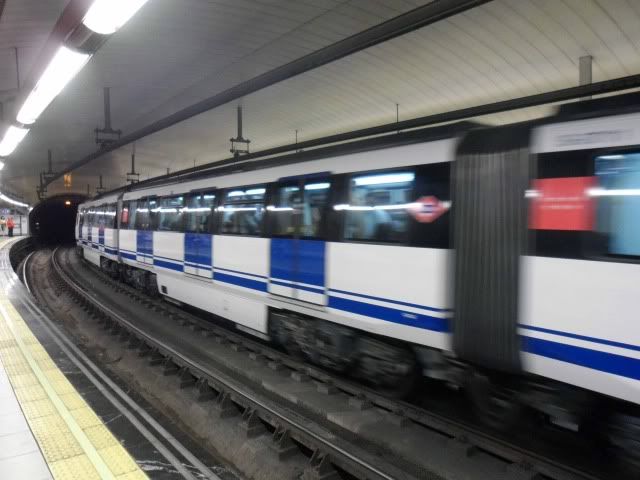 Very civilized Metro. After reading so much about pickpocketing in Spain, especially in their Metros, I pictured it to be very dark and creepy with suspicious characters lurking around.
This is the bullfighting stadium, 
Plaza de Torres
. Was super uneasy with the crowd man, so scared of being a pickpocketing victim lol.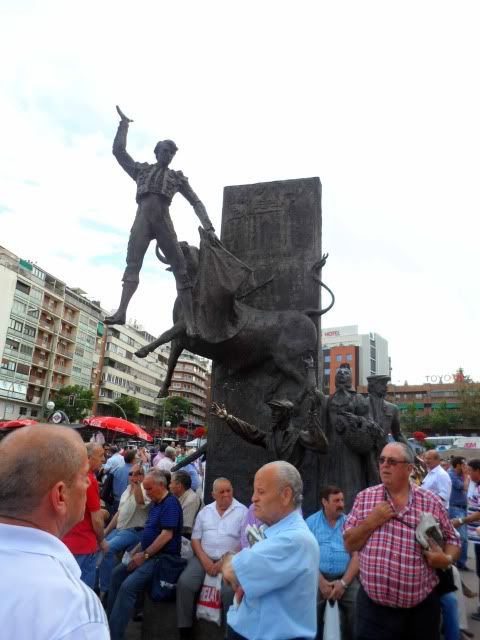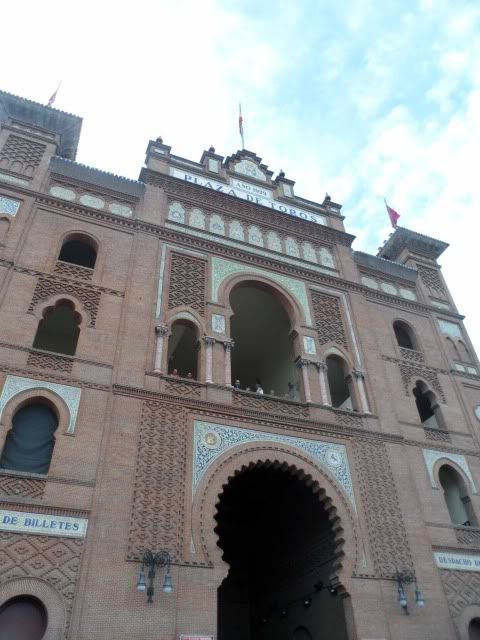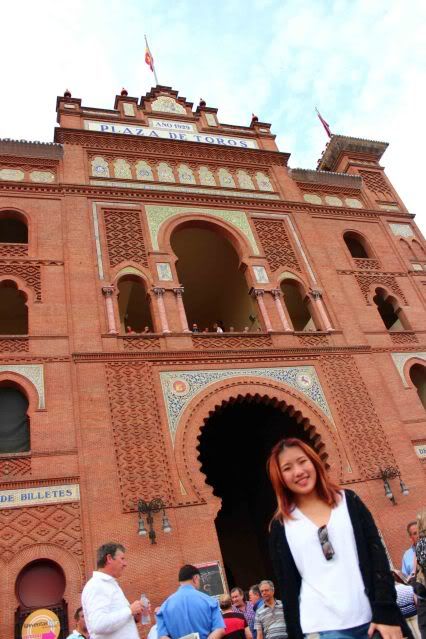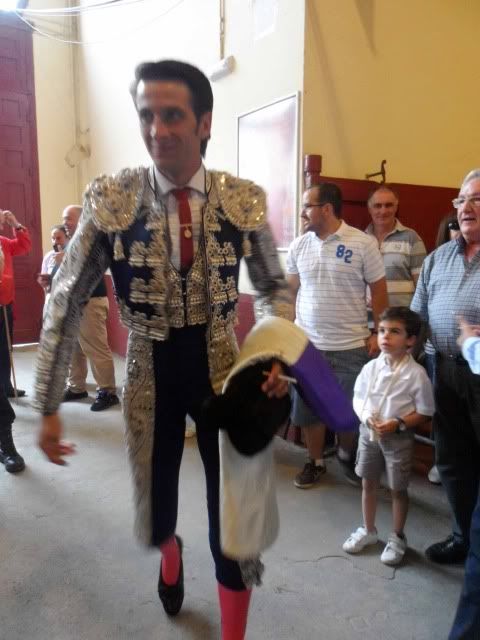 A matador, or 
torero
. Wanted to take a picture with them but they seemed to be in a hurry. But now that i've actually watched a bullfight, not so into photographs with them anymore. I know it's part of Spanish tradition and i'm sure there are some chinese traditions that Caucasians probably don't approve of, but bullfighting is really not my thing. No offense to any Spanish who might be reading this though. On a side note, I really like the costumes!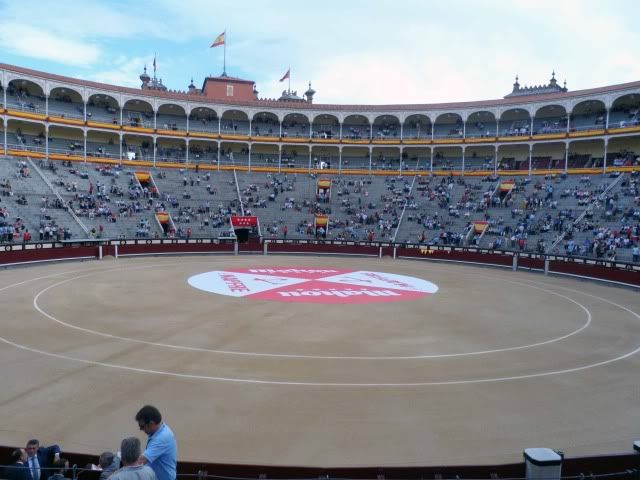 The beginning. How it works is: there are 6 matadors and they each take a turn with the bull using pink capes. The  famous red capes don't appear until the end, when one matador delivers the final blow to the bull. By the way, it's a myth that the colour red angers the bull, because bulls are actually colourblind. It's the movement of the cape that attracts their attention. So anyway, after the matadors do their thing with the pink capes, their assistants on horseback spear the bull to draw blood and weaken them, then the matadors each take a turn to stick 2 short swords into the bull, so by the time they're all done, there are at least 6-12 swords sticking out of it. Finally, one matador (one bull per matador) kills off the bull with a long sword.
I only stuck around for 3 rounds. The first and last bull died pretty peacefully, but the second bull had blood pouring out of it's mouth. It was quite horrifying.
The famous red cape. I actually took more photos and videos but I'm only going to post this one, because you've probably already seen similar images online. I don't want to post too many because I don't want to seem like i'm supporting this tradition. Like I said, it's just a personal thing.
It's funny. During the last semester, I had to work on a PETA campaign that was against eating fishes (goddamn fishes, can you believe). My question is, why does PETA bother with insignificant creatures like fishes when there are other animals that need more protecting? At least with fishes you eat them, bullfighting is almost like a bloodsport. Bullfighting is actually already banned in Barcelona, which is quite relieving to know.
I know it seems very hypocritical of me to be so against bullfighting when I went ahead and bought tickets to watch it =/ All I can say is, I had no idea it was going to be so graphic and now that i've watched it, I can tell you that it is very horrifying and cruel and I felt very bad for the bull. I actually never bothered watching it online, if I had, I probably would have just visited the stadium without watching a fight. If you visit Spain, I guess it's understandable that it's one of those must do tourist things but if you really want to watch a bullfight, watch it online. This is my first and last time watching a bullfight. It takes great daring to be a matador and I understand it's an art form to the Spanish but I guess my sensitive Asian-ness can't take it lol.
I'm not one of those hippy save the world person, I waste a lot of food (to the point I suspect i'll be a starving African child in my next life), I buy leather and I love steak so, so much. Yet, I've never supported killing animals for sport. I just don't get it, why would you want to risk your life aggravating a bull, when you could have y'know, just left it alone in the first place and everyone's happy?
Guess it's one of those cultural/traditional things I don't understand.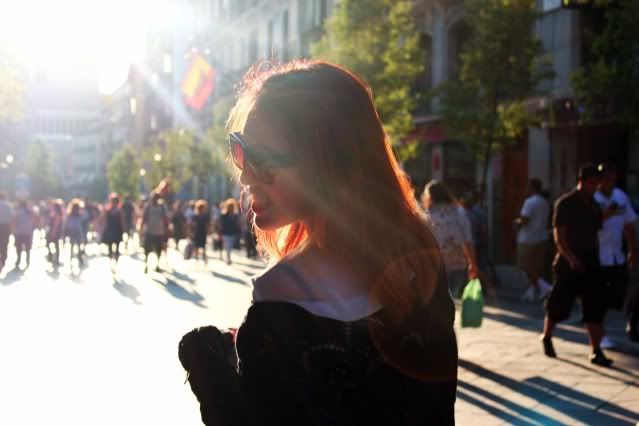 On to a lighter topic. Carrie took this picture of me while walking back to the hotel. SUPER LOVE MAX. Light rays and rim lighting, Su Fan (my photography lecturer in year one) would be so proud.
We went for dinner at 
Don Ulpiano
, a small restaurant just behind our hotel. We were lazy to go too far and just decided to try this one. Turns out it was a good choice because the food was really good! The staff here are all very nice, apart from the occasional grumpy overworked ones. Their service industry is very different from Singapore. Either that or our asian-ness was just too amusing.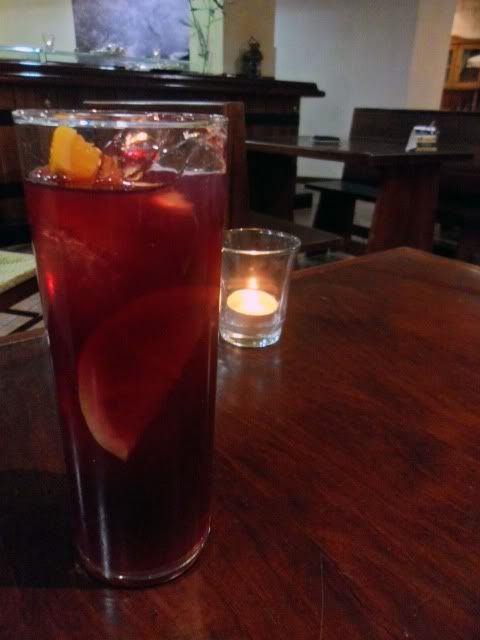 Tinto de Verano, my new favourite drink. It's kind of like Sangria. It one part red wine and one part lemonade, really, really refreshing! I actually ordered a sangria but the waiter recommended this.
Fried calamari and 
patatas bravia
(potatoes with spicy sauce). This isn't hard to find in Singapore, i've already eaten it twice at 
My Little Spanish Place 
(along Bukit Timah road) and 
Serenity 
(Vivocity).
Pork and foie gras in a creamy mushroom sauce.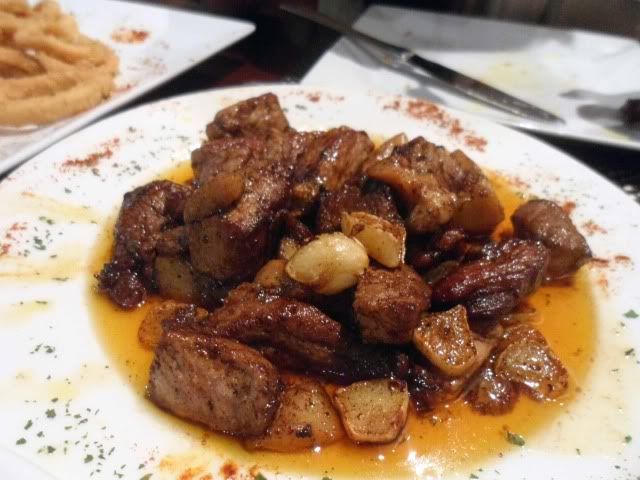 Stir fried beef, garlic and foie gras. This was really good. The garlic got really sweet and mellow in the cooking process and while imparting flavour to the beef, managed to absorb the savory beef flavour in turn.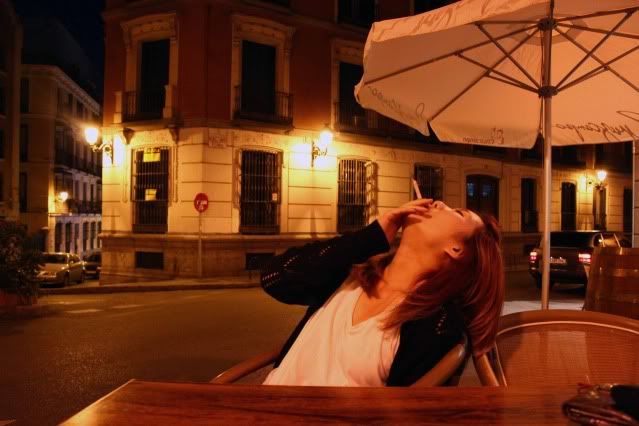 Ordered another drink and went to sit outside to chill in the cold, no pun intended lol.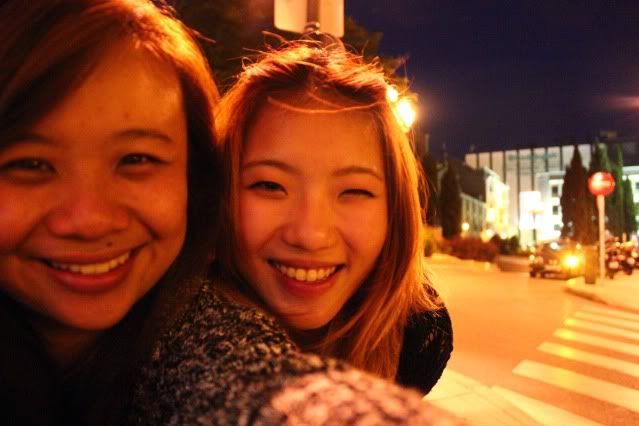 I'm really tired now cause we slept around 1am yesterday. I foresee a long day of walking ahead so i'm going to go ahead and catch some sleep. Happy Thursday, one more day to Friday!
xx