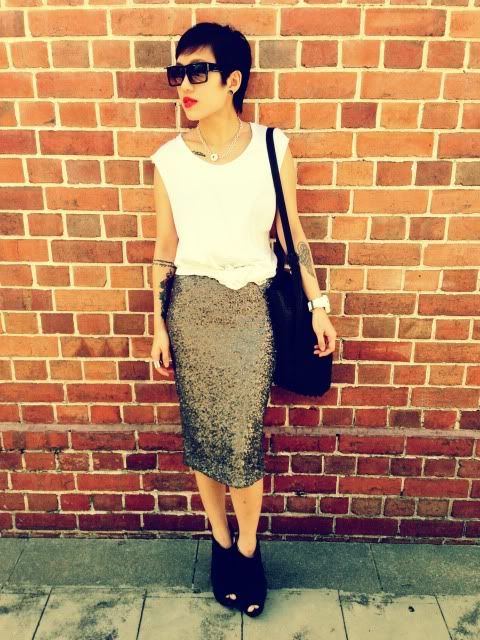 Top Zara Skirt & Shoes Topshop Bag Alexander Wang Shades Taiwan Necklace Tiffany's Watch G-Shock x AOS

I've always had a thing for super squarish sunglasses because a) they look ridiculously cool and b) I love geometric aesthetics! I picked up in this pair in a menswear store in Taiwan a couple of years back and I probably just wear them to remind myself that rounded shades are not the be all and end all.
I think its probably worth pointing out that I've never been a watch person because I'm a chronic arm swinger- I've scratched the faces of at least a dozen watches before I hit 14 so I kind of gave up on wearing them. This one is a beauty, I absolutely
love
the colour and did I mention I never wear women's watches? I prefer them chunky. This is a special AOS (DJ collective from Singapore) edition that I borrowed from Ben and I think its the perfect first watch after nearly a decade.
Doodles, named Barbeque Soundtrack for some reason.
It's
HOOD RICH
tonight in Fash (The Butter Factory) and I've already got my fangirl outfit ready. If you haven't been to any so far (which rock again..?) please come to the one tonight because I hear its going to be epic! Tshirts, CDs and a brand new drink- how on earth can you miss it?!
xx