Is it just me or has there been a lot of news about burgers recently?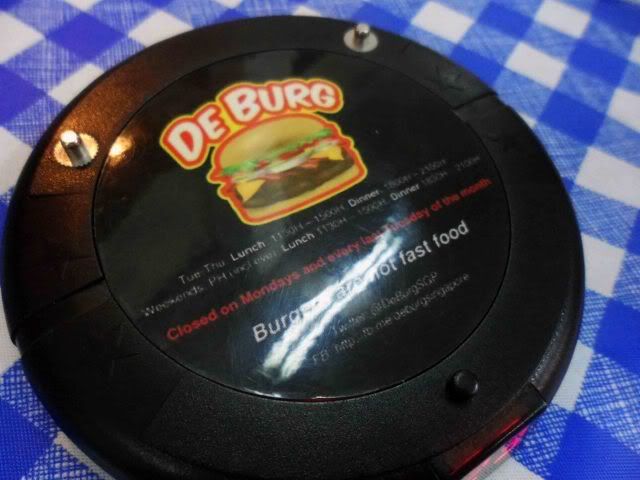 De Burg has a very unassuming storefront in a coffee shop in Bukit Merah. If I hadn't heard that this place supposedly sells the best burgers in Singapore, I would have probably walked past it not knowing any better. But what it lacks in ambience, it certainly makes up for in food! Besides, the burgers are pretty amazing, you won't really care where you're eating it anyway.
De Burg
119 Bukit Merah Lane 1#01-40
Just walk into the coffee shop, you can't miss it. And definitely make reservations. When I called to push my 7pm reservation to 7.30pm, the guy on the line told me that they tend to run out of food around 7.30pm-8pm, so I would potentially be disappointed. I actually half thought it was a kind of gimmick but WE WERE SO LUCKY. We actually ordered the
last batch of burgers
. The "Sold Out" sign was turned on after we ordered. *Wipes brow*
Popcorn chicken side. We ordered it because we were 
starving 
but they served it at the same time as our burgers. I really cannot decide if they were good, or if I was just really hungry. One thing I didn't like was that towards the end, you get the deep fried bits with no chicken meat in it. Quite a lot, actually.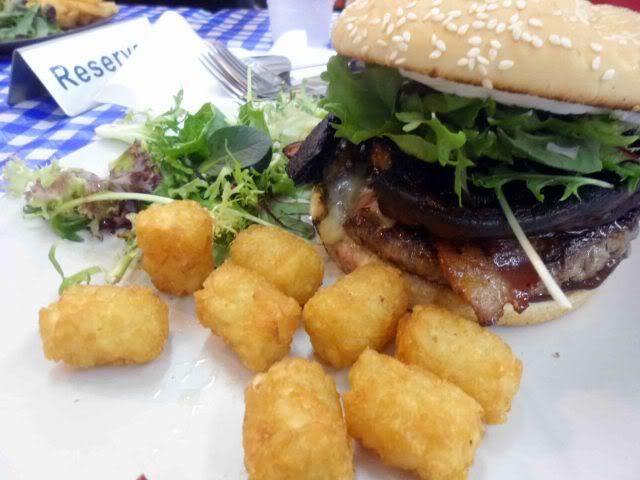 My burger with a side of salad and tater tots. Oh how I love tater tots (you get to choose 2 sides with each order). I can't remember exactly what this burger was called but it's the original one, right at the top of the menu. Now this, I'm  very, very sure, was one good burger. A solid, flavourful patty covered with cheese, a huge, juicy portebello mushroom, couple of streaks of crisp bacon, a ring of onion and a refreshing handful of salad leaves all piled up for your pleasure in between a toasted burger bun. It's one hefty burger that isn't shy that it's not diet food. It's a solid 20 minutes of eating fat, grease and meeeeeaaaaat. If you're on a diet, you might just want to eat one anyway. Every mouthful was pretty damn explosive (of flavour). I'm getting really hungry looking at this now!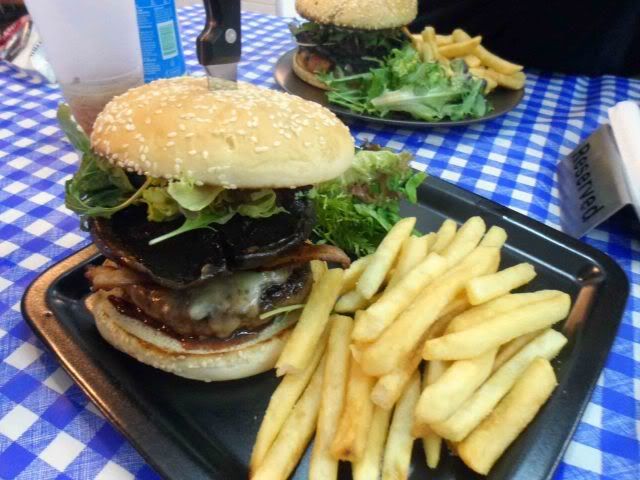 Ben got The Decadence, which is the same as mine but the patty is made of Wagyu beef. The meat was very tender, almost too tender for my liking. I like my burgers where I can feel the meat sort of crumble in my mouth every time I take a bite. Face it, burgers are messy foods that you should not attempt eating on a first date- especially not burgers at De Burg because they are really tall and it would just be unglamorous beyond belief. The Wagyu patty makes it slightly too tame for me, I feel like i'm eating more of a steak than a burger. I read somewhere that there actually isn't a point in making Wagyu burgers because as the meat gets ground up, you don't get to enjoy the marbling of fat that Wagyu beef is known for, as you would in a good piece of steak. Still, this was a good burger and perhaps ideal for ladies who don't like chewing so much? Idk. 
One thing though, before De Burg starting getting a reputation for the best burgers in Singapore, that title once firmly belonged to Smokin' Frogz at Bukit Timah. I love the burgers there too! Comparing the two, i'd say that De Burg's burgers definitely have more flavour, but is significantly oilier than Smokin' Frogz. The oil kind of bothers me, simply because there is so much of it! I know burgers are sinful but I just don't particularly liked being constantly reminded of it visually.
I'm going back again for sure, once i've worked off the calories from that other meal!