Berlin is an amazing city. Initially, I was rather unimpressed with the architecture- rows after rows of plain square buildings, a far cry from the elegance of Paris or the liveliness of Spain. In a word, it was cold. It didn't help that the airport was utilitarian to the point of being bleak. Definitely not the first best impression. Now I like minimalism but the thing about minimalism is that sometimes, it's not very photogenic.
However over time I grew to love the city for what it had to offer, the amazing food, the insane array of fashion (more cutting edge/obscure brands) and even the people. I'm probably offending a bunch of people by saying this but from what i've seen, of the 4 cities I visited, I think Berlin has the best looking people. I would have even loved the weather if I was better prepared for the cold.
What I find amazing is how it's managed to rebuild itself into the artsy city that it is today, despite their very, very dark past. It's a strange juxtaposition, their present and past. Asia will always be my home, but if I had to pick an European city to live in, as of now, that would definitely be Berlin.
So the last day in Berlin!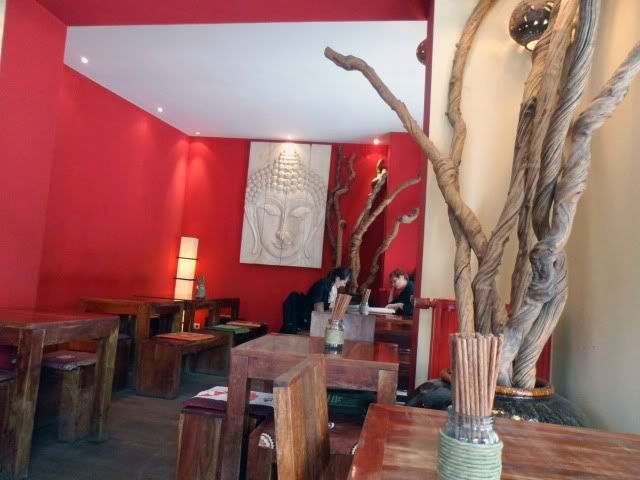 Went to a Vietnamese restaurant for lunch! My Asian tastebuds can only take so much western food before they start to protest.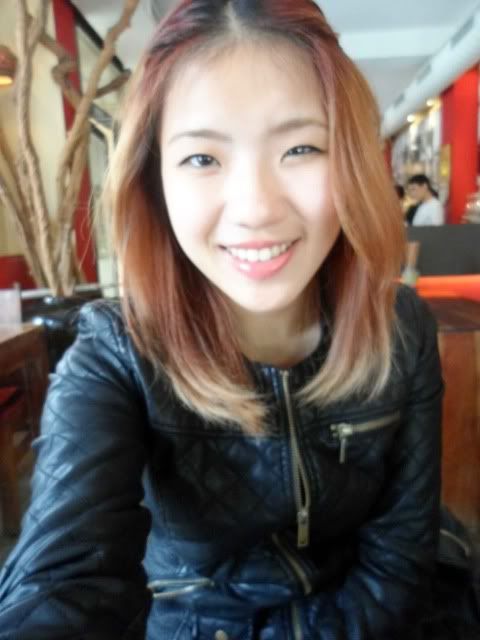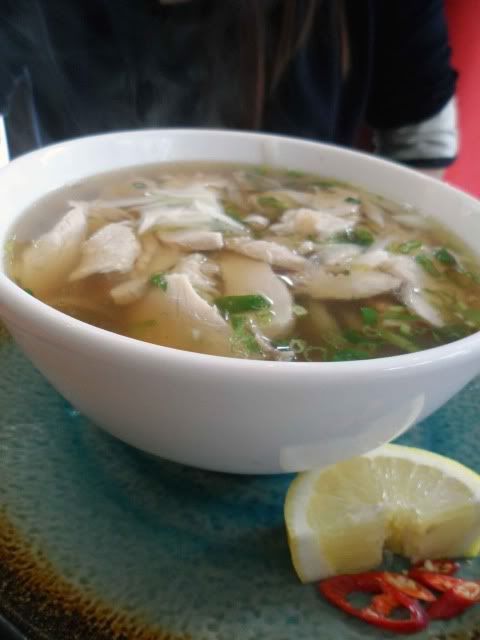 There's a store in Berlin called 
Apartment 
(it's sister shop is called 
Cash
). It's famous for having a super minimalist storefront. I think we actually walked past it the day before because it looks nothing like a shop. Check it out.
Tadah! Just a plain white room. I mean who'd think this is actually a shop right.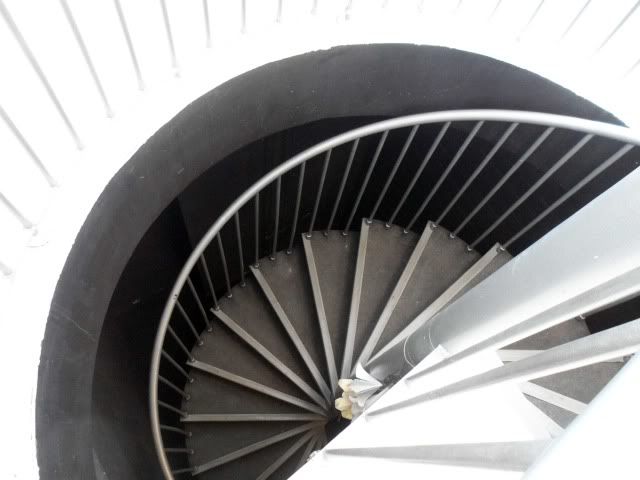 The real store is actually in the basement. In contrast to the first floor, it's done completely in black- think black walls, black velour couches etc. They didn't allow photography downstairs so I couldn't take pictures. I think they must make a lot of money because the retail space upstairs is literally just space. I cannot imagine what the rent in a city like Berlin is like.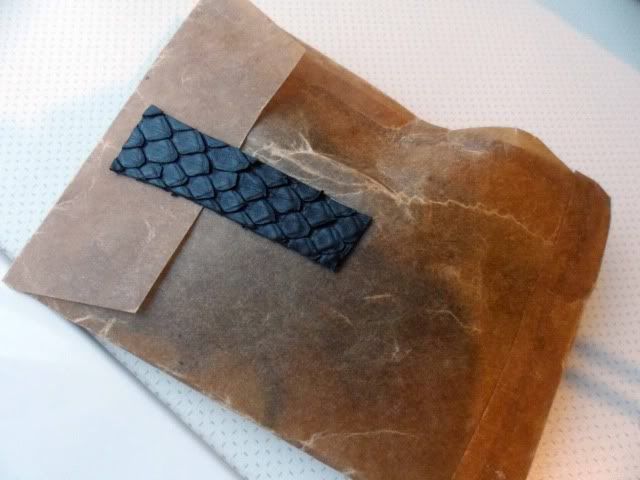 I bought a necklace and the packaging was like this. Just wanted to show y'all the cool black 'tape'.
We were planning to visit museums afterwards, but we did some research and found out that there is an old concentration camp on the outskirts of Berlin that has been transformed into a museum for public viewing. I think I have some morbid fascination, but I really wanted to visit one of these museums in person so I dragged Carrie 30km out of the city center to
Orianburg
, where the camp is located.
Visiting hours are until 6pm everyday. If you're planning on going, go early because there is actually quite a lot to see. We reached at 4pm and barely scratched the surface when the rain forced us to leave at around 5.30pm.
Note: Photos are quite unsettling. I didn't even want to look at them in my camera after I left, and editing the colours in photoshop left a nasty taste in my mouth. Even as I type this, I'm rather apprehensive about looking at them again and am tempted to skip captioning them.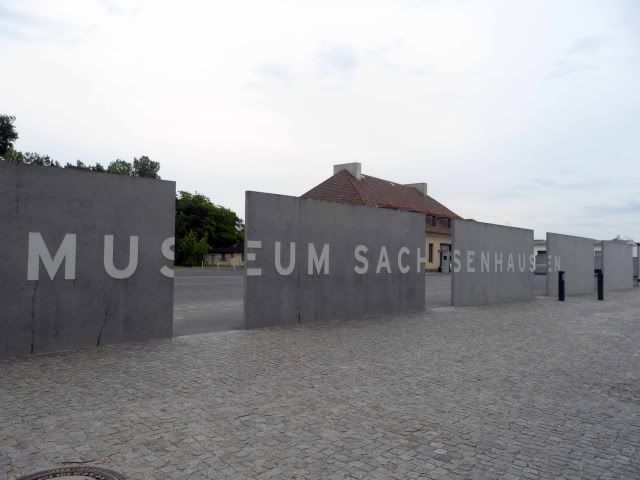 The Sachsenhausen Concentration camp. Initially it was just a holding for prisoners, but towards liberation, turned into an extermination camp. I didn't find out about this until I researched it when I was back in the hotel and I was honestly quite horrified.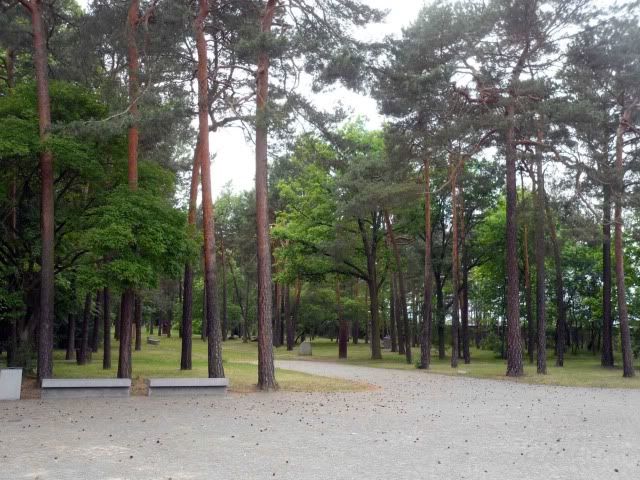 Some park you'll pass by when you first enter. I was planning to check out what looks like memorial sculptures but the rain was being a pain. Plus it was bloody freezing because there were obviously no buildings around.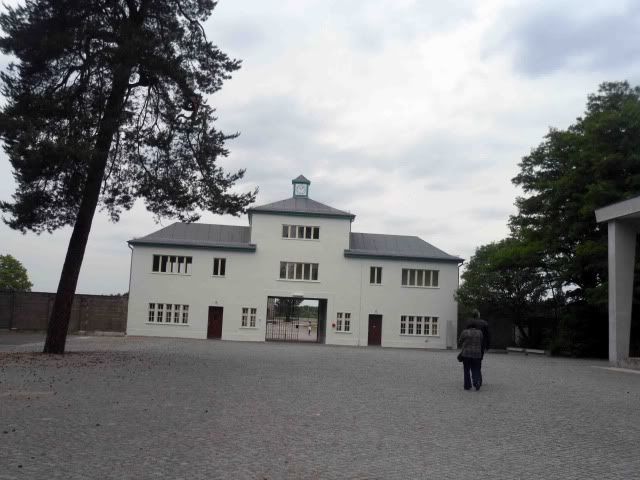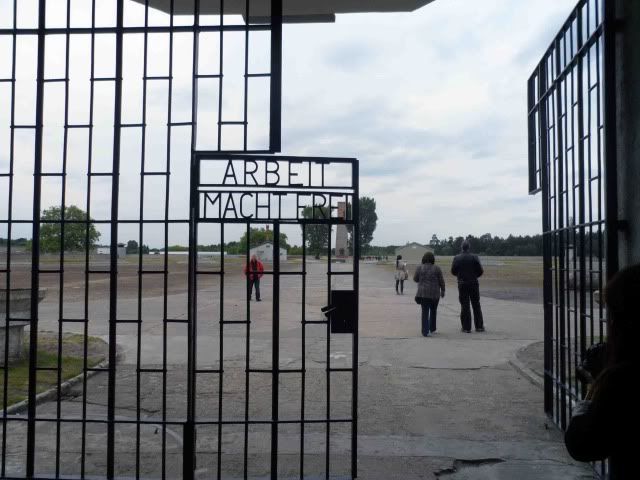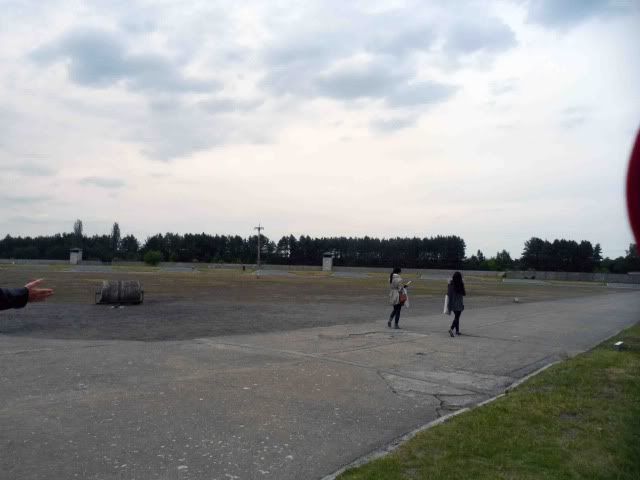 This is what the grounds look like. I was confused at how barren it looked at first but they actually tore down a lot of barracks and structures. It was a very grim atmosphere. No one was laughing or joking around, even the kids. It was strange walking around, I don't know how to describe it. My stomach felt clenched up and I was just feeling really somber the entire time. I'm not exaggerating when I say it got very depressing after a while.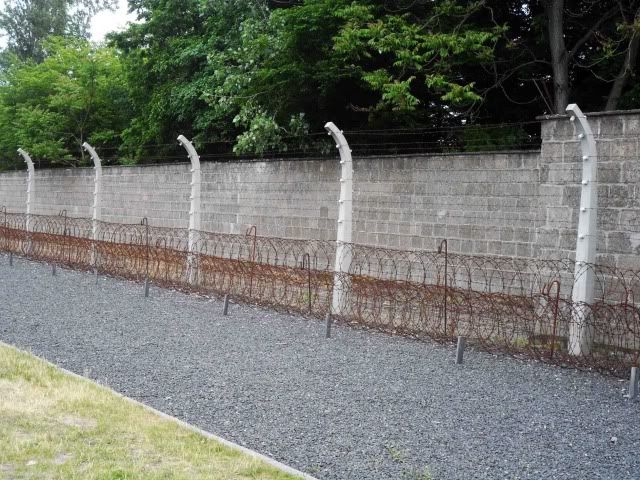 This is the "Death Zone". Basically anyone who walks onto the area will be killed by the S.S guards. I read on Wikipedia that the guards used to threaten prisoners with the penalty of death if they didn't obey their orders to walk on the strip, and the minute the prisoners did, they were killed. Fucked up.
Barrack 38. Barracks 38 and 39 are filled with exhibitions. See the patch of gravel next to it? That's what used to be another barrack. The grounds was filled with said gravel patches.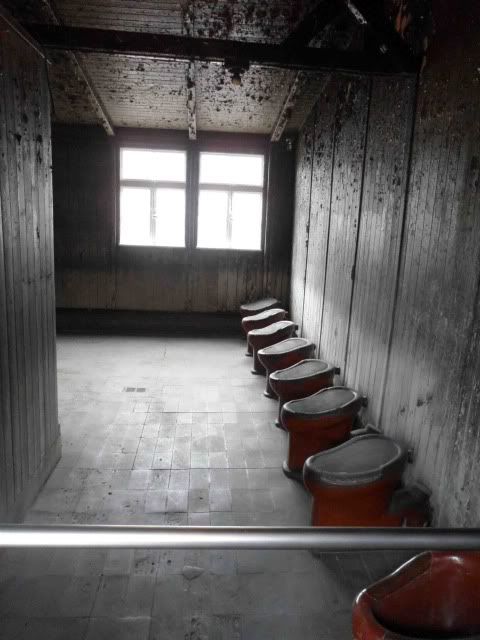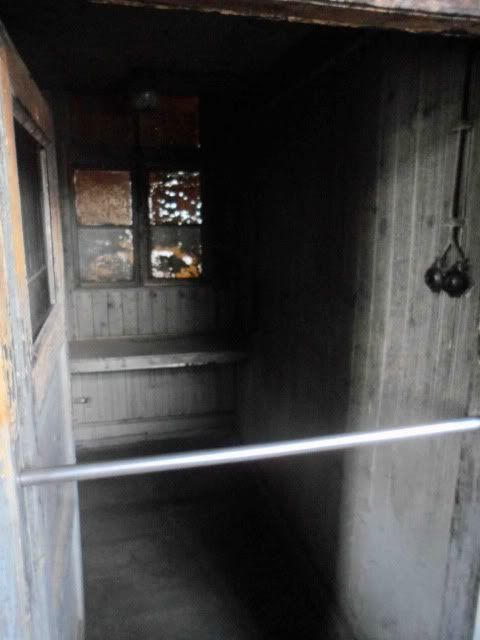 The description next to this said it was used as a supply closet / torture room. =/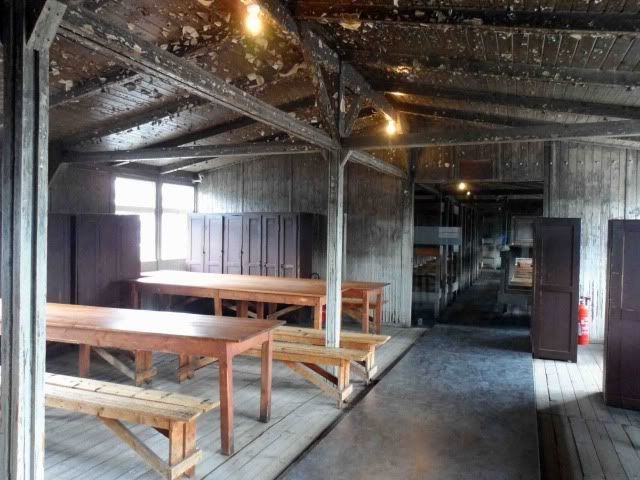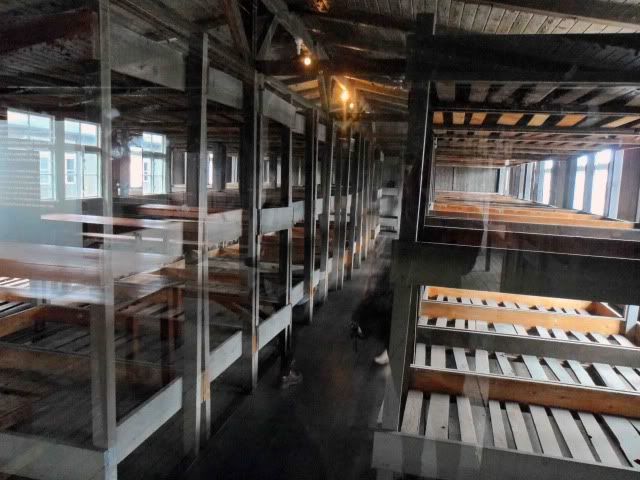 Double bunk beds that eventually became triple bunks when the number of inmates grew. You'd think that's a lot already but no, prisoners were sometimes made to share beds.
Washing up area. I read that the guards used to cram an entire barrack of inmates into the washrooms and many would die from suffocation in the summer.
Map of the grounds.
The infamous stripped uniforms. The triangles at the bottom left corner are indicators of what kind of prisoner you are. If i'm not wrong, yellow means you're a jew and in terms of prisoner hierarchy, that's the lowest. Pink was for homosexuals, red for political prisoners and one more colour I don't recall now.
The camp was also used as a "leather factory". Inmates had to recycle re-usable leather parts from the belongings of murdered victims from other extermination camps. These are scraps of leather remains that were found when they dug up the site. The camp also counterfeited nearly a billion dollars in British and U.S currency to undermine their economies, and the Bank of England never found out.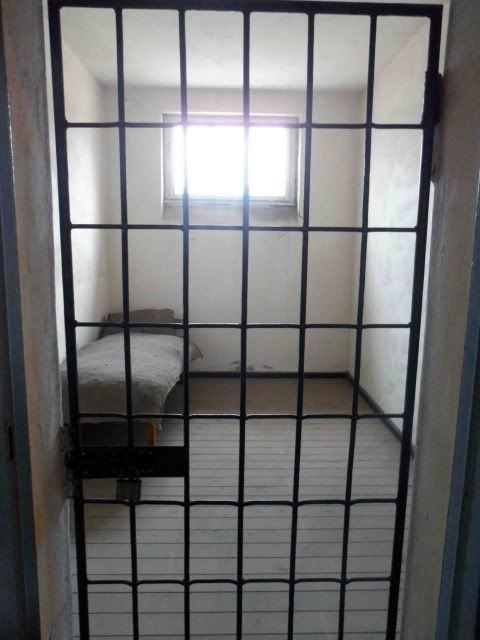 Jail cells from the prison block.
It was really fucking terrible walking through this building. Many of the jail cells held prominent figures during camp days, and said cells now contain their photos in remembrance. If I had known we could leave flowers, i'd have bought a bouquet to leave on the grounds.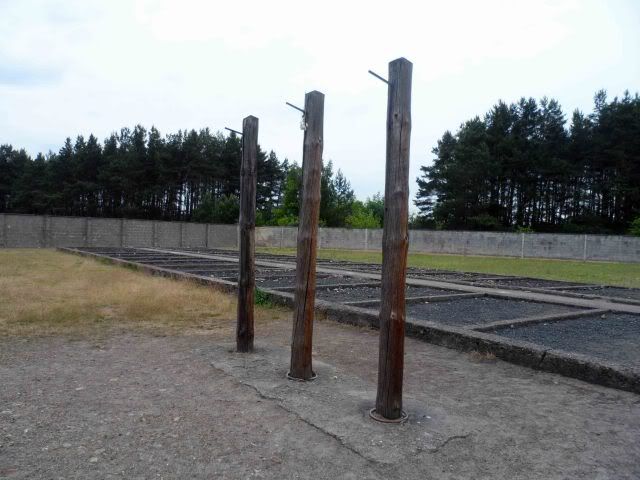 I read that these are 'hanging poles'. S.S guards would tie prisoners to these poles with their arms behind their backs/over their heads so after a prolonged period of time, their arms would be dislocated and held only by muscle and sinew. I cannot for the life of me imagine how such inhumane acts could be committed, how the lives of innocent 'prisoners' are valued as if they are objects. Hatred and vengeance are truly dangerous emotions.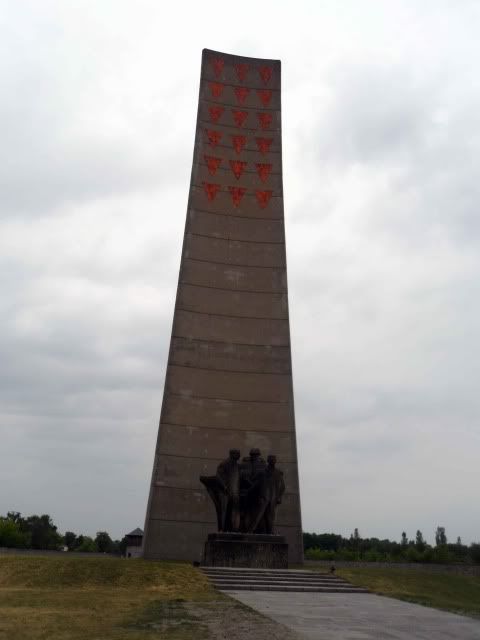 We left shortly after this because of the rain. When I went on Wikipedia, I learned that the museum also houses cremation ovens used to burn bodies, and a medical room for human experimentation. I don't know how I feel about not seeing them. Not too sure if my stomach could take it either.
It was a solemn afternoon. I pray for the souls that are probably still wandering the grounds and hope they can move on to the afterlife.
Ok fuck i'm getting upset writing about the bloody camp so i'm just going to move on to something trivial before I really get depressed.
Went to try some curry bratwurst at what appears to be a popular joint. Funny thing, Berliners are really into Asian food. There were Chinese, Vietnamese, Japanese and Thai restaurants everywhere man. We even counted four Thai massage parlors.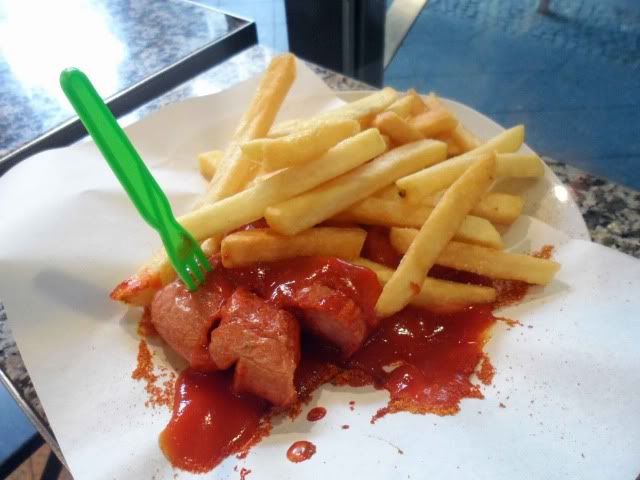 Shall end off this post with a picture of their fridge, casually stocked with Moet, Veuve and Dom as if it was a club. Btw a bottle of Dom there goes for just €190. Cray.
I'm just done packing after today's insane shopping spree. Going to hit the shops one last time tomorrow and then it's off to the airport. I've got to start mentally preparing myself for the long flight back!
TGIF, Saturday is finally my turn for some inebriety!
xx